South Africa's Zuma Calls for Stop to Public Spats Within ANC
Amogelang Mbatha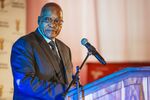 Public spats within South Africa's ruling African National Congress must stop as the party's branches are shrinking due to factional battles, President Jacob Zuma said.
The party must "unite and close ranks," Zuma said in a speech to ANC military veterans Friday in Johannesburg. "We can not unite our people if we ourselves are not united."
Factional fighting within the ANC has increased after Zuma changed his cabinet on March 31 and replaced Pravin Gordhan as finance minister, prompting credit-rating downgrades to junk. The party ordered Zuma's government to rescind a decision last month to reinstate Brian Molefe as head of the state-owned power utility.
The ANC will elect new leaders in December. Zuma has indicated that he favors Nkosazana Dlamini-Zuma, his ex-wife and the former head of the African Union commission, to succeed him, while his opponents are rallying around Deputy President Cyril Ramaphosa.
The ANC is not yet in charge of the economy, Zuma said. The "strategic enemy remains white monopoly capital."
Before it's here, it's on the Bloomberg Terminal.
LEARN MORE