technology
Short Sellers Attacking Your Stock? Citic Bank Wants to Help
Bloomberg News
AAC, Fullshare both secured credit lines from Chinese bank

Activist short sellers have stepped up campaigns in Hong Kong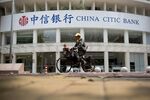 Call it the short-seller defense package.
For the second time in five weeks, China Citic Bank Corp. has extended a 10 billion yuan ($1.47 billion) line of credit to a Hong Kong-listed company targeted by activist short sellers.
The state-owned Chinese lender's agreement with AAC Technologies Holdings Inc. on Friday looked almost identical to the one it reached with Fullshare Holdings Ltd. last month. AAC, a maker of miniaturized speakers and receivers for mobile phones, is fending off allegations from Gotham City Research, while Fullshare, a property developer, is sparring with Glaucus Research and GeoInvesting LLC.

Both stocks got a boost from the show of support by Citic Bank, which said its decisions were based on "prudent, professional and reasonable" assessments. The lender's deep pockets could make life difficult for activist short sellers, who have targeted more Hong Kong-traded stocks in the past 12 months than at any time in at least five years.
"It's a vote of confidence in the borrower's financial fundamentals," said Richard Cao, a Shenzhen-based analyst at Guotai Junan Securities Co.
It could also be a case of a state-owned bank acting to support China's interests. Citic Bank said in a response to questions from Bloomberg News that Fullshare's parent group is a leading private firm headquartered in Nanjing and has contributed significantly to the local economy. The lender called AAC a "world leading" technology company and said its agreement showed Citic Bank's commitment to supporting the real economy as part of China's national policy.
Defense Mode
Shares of AAC climbed 3.4 percent on Friday, completing their biggest three-day gain since 2008. The Citic bank agreement comes after the Shenzhen-based Apple Inc. supplier rejected Gotham's allegations and started buying back shares.
"In order to establish a long-term, stable, mutually-beneficial and win-win
strategic cooperation relationship, Citic Bank will carry out multilevel cooperation based on the financial needs of the Company," AAC said in a Hong Kong exchange statement. The credit line agreement has a term of two years, AAC said.
Fullshare announced the same terms on May 3, after laying out a 14-page rebuttal to the Glaucus allegations. The April 25 report -- in which Glaucus questioned Fullshare's intraday trading patterns and said the stock was "poised to crash" -- had statements that were "misleading, biased, selective, inaccurate and incomplete," Fullshare said. The stock, which has rallied 24 percent since April 25, slipped 1.3 percent on Friday.
Bearish research firms tracked by Activist Insight have targeted at least 20 companies in Hong Kong over the past 12 months, the most since at least 2012.
— With assistance by Jun Luo
(
Updates with Citic Bank comments on AAC in seventh paragraph.
)
Before it's here, it's on the Bloomberg Terminal.
LEARN MORE