Mnuchin Plays Nice With Canada
By and
U.S. Treasury chief says a Nafta revamp good for both nations

Canada has said it will seek larger global leadership role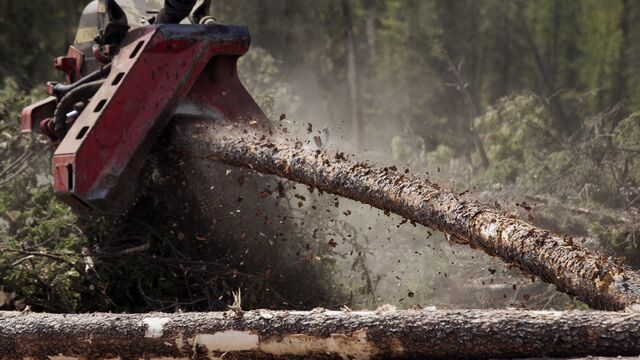 U.S. Treasury Secretary Steven Mnuchin downplayed differences with Canada as the two nations prepare to reframe their trading relationship and the Canadian government charts a course that relies less on American leadership.
The U.S. wants to make sure any revamp of the North American Free Trade Agreement is also "good for the Canadian economy," Mnuchin said in a joint press conference with Canadian Finance Minister Bill Morneau on Friday in Ottawa. Canada welcomes the chance to update the two-decade old accord, said Morneau.
"We have a very close relationship with Canada and will continue to do so," said Mnuchin.
Mnuchin received a warm welcome during his visit despite growing differences over policy approaches. Canadian Prime Minister Justin Trudeau has expressed deep disappointment at President Donald Trump's decision to abandon the Paris climate-change pact, and Trudeau's government has promised to seek a larger global leadership role as the U.S. pulls back.
The renegotiation of Nafta is another cloud hanging over the relationship. The official start of talks to revamp the deal, which also includes Mexico, are due to begin as early as mid-August when U.S. domestic consultations are concluded. The stakes are high -- Trump has threatened to scrap the deal that shapes a large share of North American trade if he can't secure better terms for U.S. companies and workers.
Trade Disputes
On lingering trade disputes over dairy and lumber, Mnuchin said: "We talked about those issues today. We're comfortable those issues will be addressed together. They are a relatively small part of the trade."
The U.S. earlier this year imposed duties on Canadian lumber, reigniting a longstanding trade spat, and Trump has complained about Canadian protections for dairy farmers.
The meeting marked the first bilateral visit to Ottawa by a U.S. Treasury secretary in 10 years. It was Mnuchin's fifth meeting with Morneau, who was the first finance minister to meet with the new Treasury secretary in Washington after he was sworn in.
The trip was a family affair with Mnuchin's fiancee, Louise Linton, joining for meetings with Mornaeu's wife, Nancy McCain. The pair, both dressed in white, spent the day touring the National Gallery of Canada and attending presentations on culture and women's issues. Mnuchin also met with other members of Canada's cabinet and business leaders, and attended an event held by the Business Council of Canada.
Read more: Canada pivots away from U.S. in embracing multilateralism
During the G-20 finance ministers' meeting in Germany in March -- Mnuchin's first international foray as Treasury chief -- Canada was said to have smoothed relations between the U.S. and the rest of the group as the global community struggled to digest Trump's America First message, according to G-20 officials at the meeting. Mnuchin later quipped that the meetings were the G-19 versus one: the U.S.
Canadian officials also helped diffuse similar tensions surrounding the U.S.'s emerging protectionist stance during the G-7.
Trump has rattled global capitals since taking office, drawing sharp criticism from Germany and France for his withdrawal from the Paris climate-change accord and his attacks on the effectiveness of the North Atlantic Treaty Organization. The situation hits even closer to home for Canada, which shares the world's longest international border with the U.S. and is heavily reliant on it for trade and security.
— With assistance by Andrew Mayeda
Before it's here, it's on the Bloomberg Terminal.
LEARN MORE