May Apologizes to Fellow Tories, Tries to Keep Her Team Intact
By , , and
Conservatives reach 'understanding' with DUP to stay in power

May faces calls to resign after her party lost its majority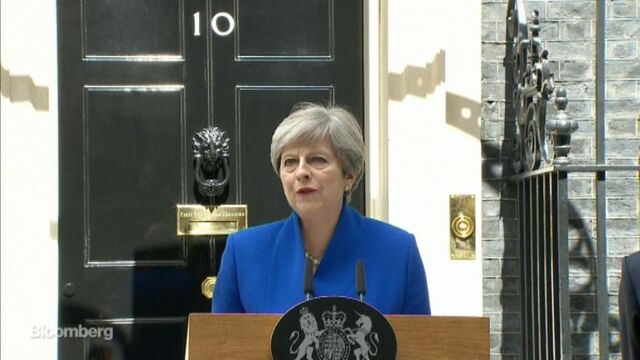 U.K. Prime Minister Theresa May kept her top five ministers in place as she tried to shore up her position among Conservatives after a devastating electoral blow that wiped out their parliamentary majority.
Chancellor of the Exchequer Philip Hammond, Home Secretary Amber Rudd, Foreign Secretary Boris Johnson, Brexit Secretary David Davis and Defense Secretary Michael Fallon will all stay in their jobs.
Earlier, May was forced to give a second televised response to the election result after her first, a statement outside her Downing Street office, failed to mention that the Conservatives had lost seats. Senior party lawmakers privately expressed outrage, according to officials speaking on condition of anonymity.

"I'm sorry for all those colleagues who lost their seats and didn't deserve to lose and of course I'll reflect on what happened," May, her voice quavering, said in a pooled interview to broadcasters.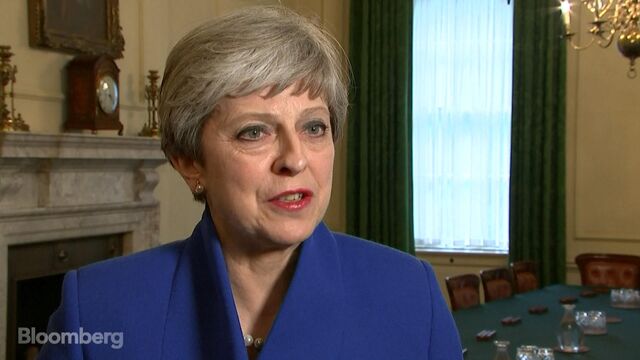 Facing calls from her own side to resign, May moved fast earlier in the day to try and consolidate her position. As votes were still being counted, she began talks with Northern Ireland's Democratic Unionist Party and went to see Queen Elizabeth II. As she began to assemble a cabinet, a leading Conservative lawmaker said there's no organized effort yet to oust her.
"What I'm hearing mostly from colleagues is there's no appetite for plunging the country and government into a period of turmoil," said Graham Brady, who speaks for rank-and-file Tories in the House of Commons. As chairman of the so-called 1922 Committee, he would organize any leadership election. "We do want to provide some continuity to prove we can make this work," he told the BBC.
Less Formal Arrangement
She's still vulnerable and her position will be at risk if any senior minister refuses to serve in her government or calls on her to go. It also remains unclear what kind of understanding she has struck with the socially conservative Protestant lawmakers in the DUP opposed to gay marriage and abortion rights. But she will rely on them to push laws through the House of Commons.
May was forced to reassure Ruth Davidson, the lesbian leader of the Scottish Conservatives, that the deal with the DUP wouldn't involving any watering down of gay rights in the rest of the U.K. 
It is a less formal arrangement than the full, two-party coalition that the Conservatives under David Cameron forged with the Liberal Democrats in 2010, and the DUP suggested that the deal was not yet finalized.
"The prime minister has spoken with me this morning and we will enter discussions with the Conservatives to explore how it may be possible to bring stability to our nation at this time of great challenge," DUP leader Arlene Foster told reporters in Belfast.
'Strong Relationship'
Earlier, May had suggested the deal with the DUP was already done, saying: "Our two parties have enjoyed a strong relationship over many years and this gives me the confidence to believe that we will be able to work together in the interests of the whole United Kingdom."
May insisted she would not be deflected from delivering her vision of a clean Brexit, while working to overhaul the U.K. economy and crack down on terrorism -- a reference to the two attacks that marked the election campaign. Divorce talks with the EU are looming and she is sticking to that timetable even as officials in Brussels looked upon the political chaos with a degree of schadenfreude.
"This will allow us to come together as a country and channel our energies towards a successful Brexit deal that works for everyone in this country – securing a new partnership with the EU which guarantees our long term prosperity," May said. "That's what people voted for last June. That's what we will deliver. Now let's get to work."

While the DUP backed Brexit, it also wants a "frictionless border" with the Irish Republic, which may prove difficult should the U.K. exit the customs union. Northern Ireland remained part of the U.K. when the rest of Ireland gained independence from Britain in 1922.
Read more about the DUP: working-class unionists and evangelicals
May's Tories took 317 out of 650 seats in the House of Commons, or 318 including Speaker John Bercow, 12 fewer than before she called the election. Jeremy Corbyn's Labour Party gained 32 seats to take its total to 262. The DUP had 10.

The outcome is a far cry from the landslide May's team banked on when she called a snap election seven weeks ago. Back then, it seemed like a safe bet, with her Conservative Party riding 20 points ahead of Labour in opinion polls. But a series of policy blunders, two terrorist attacks, and a populist Labour platform derailed the Tory campaign.
If history is any indication, the Tories will waste little time in seeking a new leader. But for now, she's bought herself some time.
Before it's here, it's on the Bloomberg Terminal.
LEARN MORE