India's Top Court Delays Modi's Plan to Link Taxes, Biometric ID
By
Supreme Court partially stays rules on link to tax returns

Court says stay is till right to privacy case is decided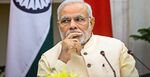 Indian citizens cannot be forced to enroll for a 12-digit unique identity number to be able file tax returns, the country's top court said in a ruling that may be a hurdle for Prime Minister Narendra Modi's plan to move transactions online.
The Supreme Court partially stayed a law that made the Aadhaar card mandatory for filing returns or for obtaining a 10-digit alpha-numeric code the Income Tax Department issues to tax payers. The stay is needed till a question on the right to privacy under Indian laws is decided by a constitution bench of the top court with at least five judges, a two-judge panel ruled. It also urged the government to address the issue of data security.
"These concerns need to be addressed by the government so that confidence is instilled in the public at large," Justices A.K. Sikri and Ashok Bhushan said in their ruling.
Aadhaar, which means "foundation" in Hindi, is a unique number provided to citizens after collecting their biometric information -- finger prints and an iris scan -- along with demographic details. Modi opposed the Aadhaar program before coming to power, saying it violated national security and the privacy of citizens. Now, it is key to his push to move the nation toward cashless transactions and save money on the payment of social security benefits.
The government has told the top court that 1.15 billion or 95 percent of Indians already have Aadhaar numbers. The program also has 582 banks, brokerages and government departments listed as users permitted to access Aadhaar's data. Google Inc. estimates India's digital payments industry will grow 10-fold to $500 billion by 2020.
To read more on how Aadhaar is being used to take India online, click here
"The court said that since a larger challenge is pending before a constitution bench, the current mandate that it should be mandatory even for those who don't have Aaadhar should not be enforced," Attorney General Mukul Rohatgi said, reacting to the judgment.
A law change in March mandated tax payers must quote their Aadhaar number to file tax returns. The government says linking Aadhaar numbers with the tax identification numbers will help eliminate fictitious and duplicate accounts, which are a common medium for money laundering, tax-evasion, as well as the creation and channeling of ill-gotten money.
The Aadhaar program was challenged in the Supreme Court by a number of politicians, lawyers and activists. They questioned the state's power to force citizens to give their biometric data, while the government argued that an individual's right is not absolute.
Before it's here, it's on the Bloomberg Terminal.
LEARN MORE