Here's How U.K. Markets Are Responding to the Election Surprise
By
Pound slides to seven-month low versus euro on hung parliament

Leadership uncertainty sets stage for increased volatility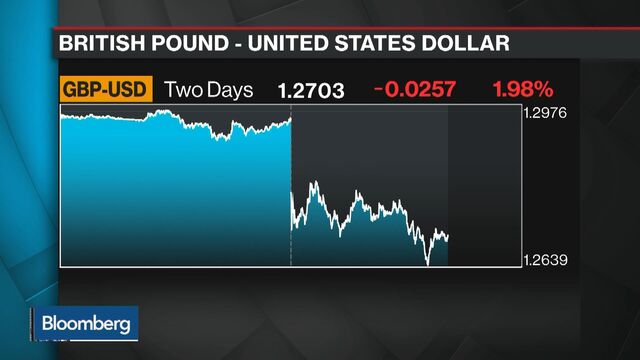 The pound slumped, (some) stocks rallied and bond yields edged lower as the U.K.'s election produced a hung parliament and threw preparations for talks to exit the EU into turmoil.
Both the ruling Conservative Party and the opposition Labour Party fell short of an overall majority, setting leadership adrift 10 days before Brexit negotiations are set to begin. Traders scrambling to work out the direction of U.K. markets agreed whatever happens, volatility is set to rise.
"GBP volatility is the winner, as the direction over coming weeks is still very uncertain," analysts at Nomura International Plc, including Andy Chaytor, said in an emailed research note.
Here are the biggest moves in U.K. markets after the vote:

Sterling plunged to a seven-month low against the euro and was headed for its biggest single-day drop against the dollar since October. The currency gave up all gains from the announcement of the election last month, which were spurred by optimism the vote would strengthen the Conservative Party's negotiating hand in Brexit talks. Still, the 2 percent drop against the dollar was much milder than the 7 percent loss some analysts were forecasting.

Overnight volatility on the pound spiked to the highest this year though the move was fleeting, while the election barely registered on a three-month gauge. Still, uncertainty about the stability of government, the outlook for growth and the direction of Brexit talks will weigh on sentiment for the pound, sending volatility higher, UBS Group AG economist Dean Turner said in an emailed research note.

The pound's drop gave a 0.6 percent boost to the FTSE 100 Index of the U.K.'s biggest stocks as a weaker currency makes British exports more competitive. The FTSE 250 index, comprising smaller companies with domestic revenues, slid 0.3 percent. If sterling continues to weaken, expect gains for industries that rely on sales abroad, such as healthcare and materials, and losses for real estate, utilities and consumer durables, Pierre Martin, a trader at Saxo Bank A/S in London, said in a phone interview.

The reaction in the bond market was muted, even as short-term borrowing costs increased relative to U.S. peers. Political uncertainty should be good news for bonds as investors seek out haven assets, according to analysts at BNP Paribas SA including Parisha Saimbi. However, the potential for higher public borrowing from a new government less in favor of the Conservative Party's austerity program could push up yields, they said.
— With assistance by Aleksandra Gjorgievska, Blaise Robinson, Justina Lee, Cecile Vannucci, and Hilary Clark
Quotes from this Article
Before it's here, it's on the Bloomberg Terminal.
LEARN MORE