Dire Brexit Warnings About London Clearing Called Into Question
By
Eurex says $77 billion estimate cited by LSE's Rolet is wrong

Brexit led EU politicians to demand return of euro clearing
A spat is mounting over the fate of one of London's most sought-after financial jewels just as the U.K. grapples with a general election that has thrown the Brexit negotiations into question.
European Union politicians have asserted that euro derivatives clearing belongs on the continent, a debate that goes back years before Brexit. The boss of the London Stock Exchange -- which also runs the world's biggest clearinghouse -- has fought back, making bold claims that repatriating clearing would endanger hundreds of thousands of jobs and create $77 billion of new costs for banks.
But one of LSE's chief rivals rejects that argument.
"The $77 billion number is very far from a realistic number," said Eric Muller, chief executive officer of Deutsche Boerse AG's Eurex Clearing unit, which is a potential beneficiary from such a shift. The company says its own research found the real cost from moving clearing -- the process of setting aside funds to protect buyers and sellers when a trader defaults -- out of the U.K. would be less than $10 billion.
The tit-for-tat shows how Brexit is threatening parts of the City of London that had been almost unassailable. LCH, the clearinghouse that is majority owned by LSE, has dominated the clearing of off-exchange derivatives for decades. Before Brexit, financial centers such as Frankfurt, where Deutsche Boerse is based, had little opportunity to wrest market share from London; the debate over how much it would cost the banks to shift euro clearing away from the U.K. shows how that has changed.
Read more: Brexit puts financial clearing work up for grabs

For a look inside the London clearinghouses that France covets, click here
Watch Next: The U.K.'s 'Hung Parliament' and What it Means for Brexit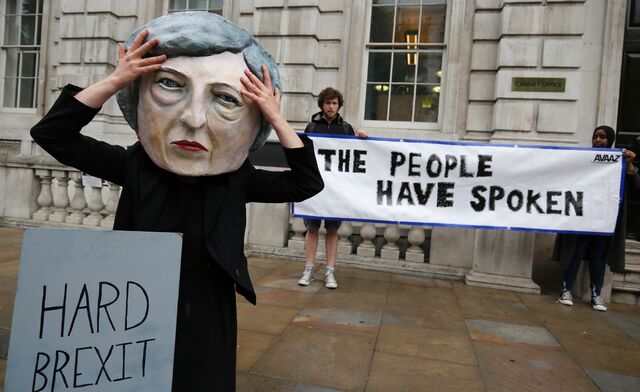 — With assistance by Silla Brush
Before it's here, it's on the Bloomberg Terminal.
LEARN MORE