Debt Talks Said to Stall Between Brazil's CSN and Creditors
By , , and
Steelmaker has delayed financials amid auditing inquiry

Loan renegotiations could complicate dollar-bond repayment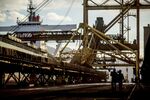 CSN's failure to deliver its financial statements is stymieing talks with creditors, according to people with knowledge of the matter. 
Latin America's most indebted steelmaker has yet to file audited financial statements for 2016 and the first quarter of 2017 amid a review of its accounting practices. Now, state banks Caixa Economica Federal and Banco do Brasil are balking at requests to renegotiate Cia. Siderurgica Nacional SA's loans, said the people, who asked not to be named because the talks are private. The company is negotiating a waiver with creditors of its local bonds, two of the people said.
A spokesman for the Sao Paulo-based company declined to comment, as did officials for Caixa and Banco do Brasil. CSN Chief Executive Officer Benjamin Steinbruch said on the company's third-quarter conference call in November that the steelmaker is in talks to extend the maturity on some of its 7.3 billion reais of debt due in 2018 and 2017.
CSN negotiated extensions with Caixa and Banco do Brasil in 2015, but this time the process is taking longer, said Sean Glickenhaus, a fixed-income analyst at UBS AG in New York. 
Another factor that may be complicating the current talks is the company's approaching international bond maturities, Glickenhaus speculated.
In addition to its local obligations, CSN has almost $3 billion in outstanding bonds denominated in U.S. dollars. The international debt consists of $1.95 billion in bonds due in 2019 and 2020, as well as a $1 billion perpetual bond. The company's 2019 and 2020 bonds last traded at 76 cents on the dollar and 72 cents on the dollar, respectively.
"If another extension takes them beyond the maturity of the international bonds, that could be one risk the banks are thinking about," Glickenhaus said. CSN's ability to service those bonds has also come into question, although there aren't any issues suggesting default is a real risk in the short-term.
CSN has a significant cash balance and good odds of refinancing debt, said Omar Zeolla, a New York-based analyst at Oppenheimer Inc.
"Why would the banks not refinance and bring on a liquidity problem when there is no benefit to them?" Zeolla said. "They are probably just asking for collateral, better terms for them."
CSN most likely will have to talk to bondholders to extend the 2019 and 2020 international maturities, UBS's Glickenhaus said, but it's unlikely to want or be able to increase its interest burden.
Quotes from this Article
Before it's here, it's on the Bloomberg Terminal.
LEARN MORE