Comey Draws 19.5 Million to TV
By
ABC edges CBS in total viewers; CNN wins among young audience

TV audience falls short of Anita Hill, Oliver North hearings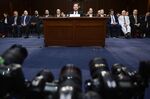 An estimated 19.5 million people tuned in Thursday to watch televised coverage of ousted FBI Director James Comey's congressional testimony on the major broadcast and cable networks, falling short of past high-profile hearings.
ABC had the largest audience, drawing 3.3 million viewers during special coverage of the hearing from 10 a.m. to 1 p.m. New York time, according to Nielsen data released Friday. CBS was second. Fox led among cable programmers. In the younger demographic favored by advertisers, CNN was first, followed by NBC and ABC.
All of the major broadcast and cable news networks carried the hearing live, pre-empting regular programming and giving Comey's testimony the feel of a national event. Many also streamed the coverage live. Bars in Washington opened early to show the drama and people across the country ditched work to monitor the former FBI chief's first public appearance since President Trump dismissed him May 9.
During more than 2 1/2 hours of testimony, Comey called Trump's shifting explanations for firing him "lies, plain and simple" and said he wrote detailed memos of their conversations because he feared the president would paint a false picture.
High-profile congressional hearings have drawn big TV audiences in the past. In 1991, more than 20 million homes were tuned in as Anita Hill testified before a Senate panel that Clarence Thomas had sexually harassed her, according to CBS. Some 40 million people watched former Marine Corps Lieutenant Colonel Oliver North testify in the 1987 Iran-Contra hearings. The opening day of the Watergate hearings in 1973 drew about 9 million viewers on the three commercial networks, NBC said at the time.
— With assistance by Lucas Shaw, and Anousha Sakoui
Before it's here, it's on the Bloomberg Terminal.
LEARN MORE