British CEOs Bemoan Election Disaster
A hung Parliament and sinking pound will complicate planning
By , , and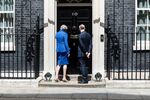 On Thursday evening, about 70 people, including more than a dozen bosses of FTSE 100 companies, gathered in the yellow-brick home of public relations adviser Roland Rudd to await returns from the British elections. Just after 10 p.m., as exit polls indicated voters had turned against Prime Minister Theresa May, a stunned silence descended on the ground-floor reception room.
Most surveys had suggested May would extend her parliamentary majority, and as the party-goers absorbed the latest U.K. electoral shock, BAE Systems Plc Chairman Roger Carr sought to calm his peers, urging them to focus on their companies rather than worry about factors beyond their control.
"The political landscape may have changed, but there remains a clear mission to build a stronger United Kingdom through Brexit and beyond," Carr said.
The possibility of another change of government means more instability for business after a year in which companies have struggled to come to grips with Britain's planned exit from the EU and a plunge in the pound. Executives now face continued political turmoil, and the currency's renewed fall added to concerns that May will be forced to resign.
"Theresa May's ability to negotiate Brexit is fatally compromised," said Harry Briggs, a partner at BGF Ventures, a tech investment firm. "She'd be a laughing stock both in Europe and in Parliament."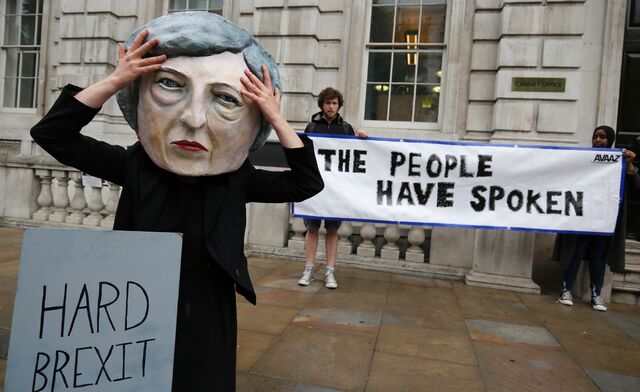 Executives were unenthusiastic about both of the top candidates but were particularly alarmed by Labour after its leader, Jeremy Corbyn, moved the party to the left with calls for higher taxes and renationalization of the railways and postal service.
While business was generally more supportive of the Conservatives, the ardor was tempered by concerns about May's call for a hard Brexit—a complete break with the EU—as well as by her proposals to crack down on executive pay, more closely scrutinize corporate takeovers, and give workers a greater voice on boards.
"The May team seemed to pay little attention to business in the run-up to the election," said Rob Kniaz, a partner at Hoxton Ventures, a London firm that funds Internet companies. "I'm scared now they will further ignore tech startups."
A stalemate in Parliament means a political void, which will complicate planning for companies. A falling pound puts further pressure on importers and helped sink shares of retailers ranging from grocers Tesco Plc and J Sainsbury Plc to floor-coverings provider Carpetright Plc. Elsewhere, Hong Kong billionaire Li Ka-shing's CK Hutchison Holdings Ltd., a big investor in U.K. retail and telecommunications, slumped.
"The biggest concern for us in the short term is what this does to the value of the pound, and the effect that has on inflation and the health of our economy," Domino's Pizza Group Plc CEO David Wild said.
Exporters could get a new boost from the depressed currency, helping lift shares of advertising company WPP Plc, Scotch whisky distiller Diageo Plc, and Unilever. Energy companies like Centrica Plc surged as investors speculated that Conservative plans to cap power bills would get watered down.
Once the initial shock wore off, some of the people at Rudd's house party saw rays of hope in the result. Because May has advocated a hard Brexit, the prospect of a new government or a weaker Conservative leadership could augur a less acrimonious break with the EU.
The election result "shows that the British people do not want a hard, destructive Brexit," Rudd wrote in a letter Friday to supporters of Open Britain, a group he funds that wants continued close ties with the EU even after a split. Though Rudd has dueling loyalties—his sister is Home Secretary Amber Rudd, who barely prevailed in a tight race to reclaim her Hastings constituency for the Conservatives—he pledged to continue his campaign against "an extreme" break from Europe. "There will be no mandate for it in the House of Commons," Rudd wrote.
Citing the uncertain political outlook, the Federation of Small Business argued for a delay in the Brexit negotiations at a meeting with other industry lobbying groups that was hosted Friday morning by Business Secretary Greg Clark. Later in the day, after May put together a plan to govern in an alliance with the Democratic Unionist Party of Northern Ireland, the federation said it would support negotiations going ahead as scheduled this month, a spokesman said.
Overseas investors in the U.K., many of whom were dismayed by the vote to leave the EU, showed signs of weary familiarity with the country's electoral surprises. Hitachi Ltd., the Japanese industrial conglomerate that has a train factory in the northern English town of Newton Aycliffe, said it could fulfill new orders from a plant in Italy if Brexit takes an unfavorable turn.
"In terms of negotiations with the European Union, regardless of which party it is, clearly we're hopeful that there are no barriers between Europe and the United Kingdom," Alistair Dormer, chief executive officer of Hitachi Rail Europe Ltd., said Thursday in Tokyo.
As Big Ben struck 10 p.m. on Thursday, marking the end of voting, entrepreneurs, consultants, and executives gathered at the Institute of Directors, a business networking group based in a stone-clad Georgian mansion on London's Pall Mall. They were shocked but not surprised as the exit polls started rolling in.
Nibbling on canapes and quaffing wine, they were quick to say May had gotten what she deserved for a lackluster campaign that ended up alienating business leaders and ordinary voters alike.
"She didn't listen," said Julian Nettlefold, editor of Battlespace Publications, a specialized publishing house that covers the global defense industry. "It's called arrogance."
— With assistance from Giles Turner, Sam Chambers, Prudence Ho, and Chris Cooper.
Before it's here, it's on the Bloomberg Terminal.
LEARN MORE