Brazil Court Chief Signals Will Absolve Temer With Tiebreak Vote
By and
Final court ruling comes after four days of deliberations

Political crisis casts doubt on future of Temer's reforms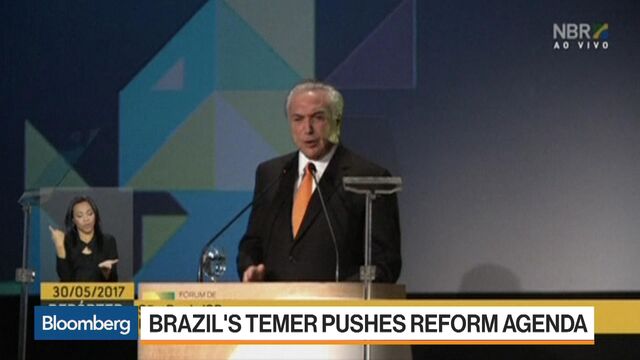 The head of Brazil's top electoral court has signaled he will absolve President Michel Temer of allegations of illegal campaign financing in a tiebreak vote.
Judge Gilmar Mendes is the last on the 7-member court to cast his vote. So far the tally of votes is three to three on whether Temer used off-the-books funding in the last presidential election. A majority ruling against Temer could have ended his presidency.
The court, known as the TSE, has been deliberating on whether Temer and former President Dilma Rousseff received illegal campaign contributions in their 2014 election victory. The ruling gained new importance after unrelated corruption allegations against Temer emerged last month, stalling the government's fiscal reform agenda. The lead judge on the case, Herman Benjamin, voted in favor of annulling Temer's mandate, saying there were attempts to bury key evidence during the trial and that he would not participate in that practice.
"I may go to the wake, but I won't carry the coffin," Benjamin said.
What to Expect From Brazil's Top Electoral Court Ruling
Since the case was filed in 2014, prosecutors working in the so-called Carwash corruption probe have gathered dozens of plea bargains describing how builders bribed politicians and executives in state-run companies to win overpriced public works contracts. Part of those bribes were allegedly used to finance political campaigns.
On Thursday, most of the court's members agreed with a defense request to ignore plea bargain statements from executives at construction company Odebrecht. Some analysts contend that the decision to exclude that testimony suggests a majority on the court is minded to exonerate the president.
Both Temer and Rousseff have repeatedly denied wrongdoing.
— With assistance by Matthew Malinowski
Before it's here, it's on the Bloomberg Terminal.
LEARN MORE