Balance of Power: May's Election Disaster
By , , and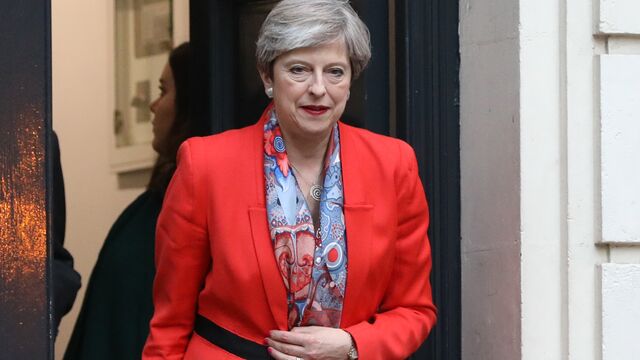 Theresa May is in the fight of her life to survive as Britain's prime minister after losing her majority in parliament in a disastrous election.
May called the vote to strengthen her position before Brexit negotiations, fully expecting to thrash a Labour leader she mocked as "weak, unstable and nonsensical."
Instead, some of her own team are now calling on her to step aside -- possibly for someone like Boris Johnson or Brexit negotiator David Davis. Labour leader Jeremy Corbyn -- whose party won more seats than virtually anyone thought it could -- is jubilant.
The U.K. is once again in uncharted territory a year after voting to leave the EU. May will now meet the Queen soon and will try to form a government with the support of Northern Ireland's Democratic Unionist Party.
If she keeps her job, she will be reliant on back-room deals on almost every important piece of legislation. A big ask for any politician, let alone someone as badly damaged as May.
With Brexit talks due to start in 10 days, it remains to be seen whether May is the person who Angela Merkel will face across the negotiating table.
Sign up to receive the Balance of Power newsletter in your inbox, and follow Bloomberg Politics on Twitter and Facebook for more.

Global Headlines
Comey keeps Trump under a cloud | Before yesterday's Senate hearing, Donald Trump's White House worried that the ex-FBI chief would drop -- in the words of one associate -- a "salacious bomb" on the president. That didn't materialize even as Comey and Trump accused each other of lying. But Comey's testimony did two things. It laid a roadmap for future investigations into Trump, especially his decision to fire Comey after earlier asking him to shelve the Michael Flynn probe. And it kept Trump's presidency, including his hopes for health care, tax and other legislation, under a cloud that could last years. 
Did Britain just reject a hard Brexit? | Brexit is still happening, but the election result throws into question what kind of deal voters want. While May campaigned to pull Britain out of EU's single market, she'll struggle to find a majority for that position in the new House of Commons. Britain doesn't have much time to decide what it wants.
Britain's next prime minister | May's position is looking precarious, and if history is any guide, the Conservatives will waste little time in seeking a new leader. As Svenja O'Donnell and Tim Ross write, gaffe-prone Boris Johnson is one of the contenders. But will the Conservatives want to give the job to the erratic Foreign Secretary as complex Brexit talks loom? Other hopefuls include Brexit hardliner David Davis and Home Secretary Amber Rudd.
The political picture | Britain's electoral map was redrawn overnight, as red Labour seats spread through the party's northern heartlands, winning back pro-Brexit voters who'd switched to UKIP two years ago. In Scotland, Tory blue made inroads into Nationalist territory, in one bright spot for May.

YouGov nails it | Jim Messina isn't laughing now. Barack Obama's former election guru worked on May's campaign and mocked polling firm YouGov on Twitter last week for predicting that she could lose her majority. The projection, the first to put out the idea of a hung parliament, was based on a new way of modeling turnout and was ultimately vindicated as the results trickled in.
The remarkable success of Jeremy Corbyn | He nurtured a cult-like following by taking his party back to its socialist roots and his buoyant campaign surprised allies and foes alike. Young, previously apathetic Britons rallied behind Corbyn's uncynical battle cry and propelled the anti-May anthem "Liar, Liar" to the top of the pop charts with 2.6 million YouTube views. "He's given people something to vote for," one voter told Bloomberg News, "not just pragmatically, but because they think it can change the world."
And finally... Britain has a proud history of wacky fringe parties. The Monster Raving Loony Party, the Al-Zebabist Nation of Ooog and the Bus Pass Elvis Party have all fielded candidates in recent years. This time, one candidate stood out against all the others. Lord Buckethead, an "intergalactic space lord," challenged Theresa May in her home constituency on a platform of strong but "not entirely stable leadership." He won just 249 votes -- but he wasn't disappointed. "A new Buckethead record!" he tweeted. "Something to celebrate, eh?"

Before it's here, it's on the Bloomberg Terminal.
LEARN MORE