Your Evening Briefing
Here are today's top stories
Bloomberg News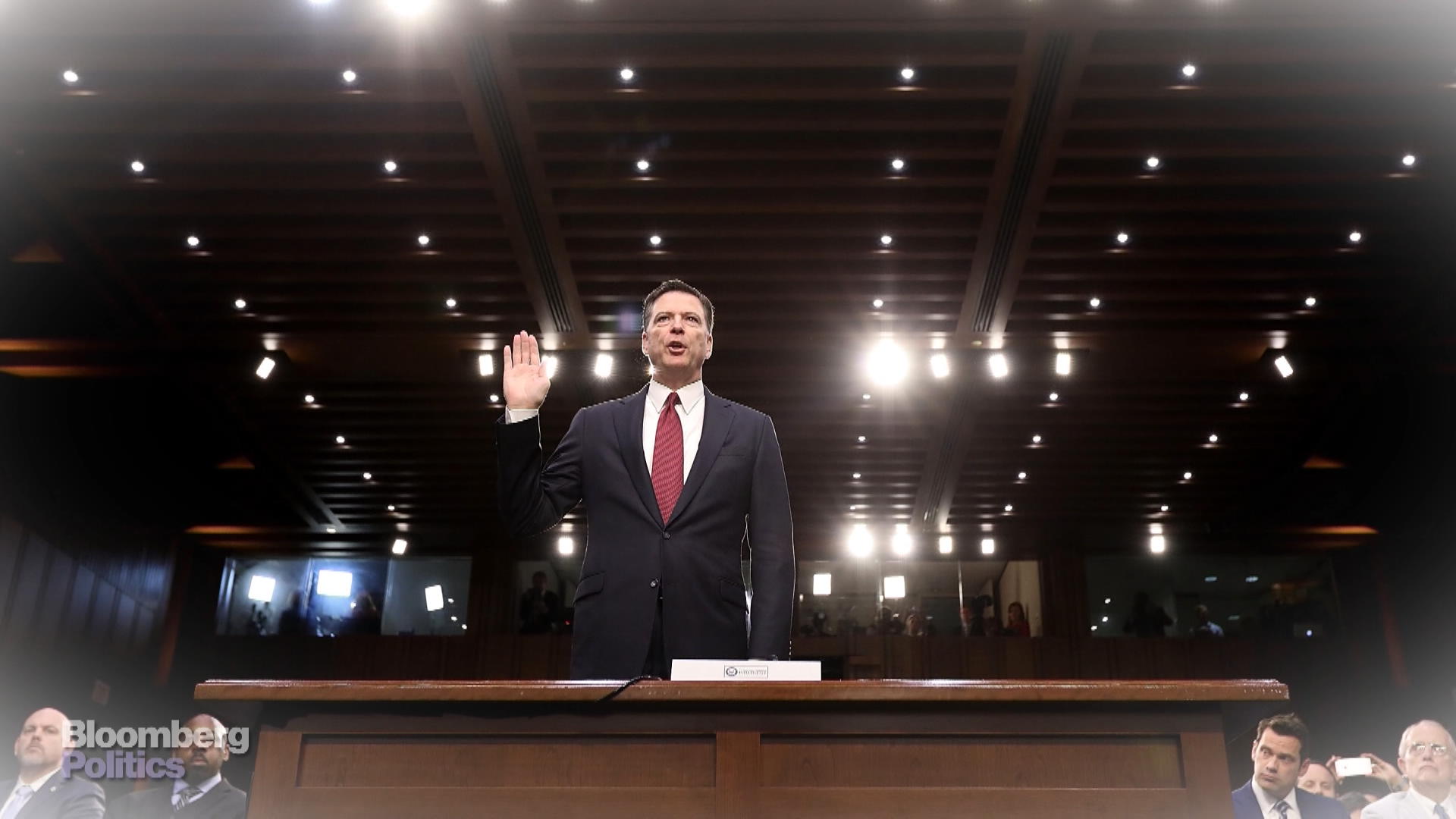 Want to receive this post in your inbox every afternoon? Sign up here.
"Lordy, I hope there are tapes". So do we, James Comey. The former FBI director made the comment during his much-anticipated testimony before the Senate Intelligence Committee on Thursday, a reference to President Trump's tweet about potential recordings of their conversation. During nearly three hours of testimony, Comey stopped short of saying Trump obstructed justice, but painted the president as a liar. Here's a rundown of what we learned—and what we didn't—from Comey's first public appearance since his firing.—Katie Robertson
Comey and Trump accused each other of lying about their private encounters in the wake of dramatic Senate testimony that centered on whether the president sought to quash part of a federal probe into Russian meddling in the 2016 election. Comey told senators that Trump's shifting explanations for firing him were "lies, plain and simple", and that he wrote detailed memos of their conversations because he feared the president would paint a false picture of their encounters. Trump hit back through his personal lawyer, who claimed the testimony exonerated the president.
Voting is underway in a U.K. election dominated by Brexit, austerity, and security, with polls set to close just before 5pm ET. For full election coverage, check out our special report page and real-time results map. Investors are braced for a range of possible outcomes, including these five scenarios.
Snap is the most-shorted tech IPO of the year, with a growing number of traders betting the stock will fall. Investors are skeptical that the company, which owns the Snapchat app, can grow quickly enough to justify its valuation—now at about $22 billion—given aggressive competition from Facebook.
How Adobe got its customers hooked on subscriptions. The switch from a product-sales model to the cloud was risky, but the move has paid off. The company's revenue is way up, with subscriptions to the popular Creative Cloud software powered a 44 percent increase.
Factories won't bring back the American dream. The U.S. is already a manufacturing powerhouse, no matter what Trump says. The true value in making something is no longer in making it, but in design and branding. By obsessing over factory jobs that no longer exist, the president may cost Americans the jobs of the future.
There's graft, and then there's Odebrecht graft. The Brazilian construction giant developed perhaps the farthest-reaching, most efficient corruption machine in modern business. That is, until it became caught up in the dragnet of Operation Car Wash, the massive Brazilian probe into bribery and corruption.
Restaurants are branding  food directly to win Instagram. Forget the matchbooks. Restaurants around the country are taking branding straight to your meal, emblazoning their logos on everything from ice cubes to tuna steaks to grab the attention of the social media crowd. Take, for instance, the new E.A.K. Ramen in New York. The nori is printed—with the logo of a ramen bowl and the restaurant name—using a patented technology from Japan.
Before it's here, it's on the Bloomberg Terminal.
LEARN MORE