Your Evening Briefing
Bloomberg News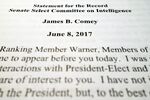 The evening briefing will soon be available in your inbox every day. To be among the first to get it, sign up here.

Former FBI Director James Comey will testify before a U.S. Senate panel about his conversations with President Donald Trump.  In nine one-on-one conversations, which form the basis of Comey's opening statement, the former FBI chief said Trump pressured him for loyalty, sought forbearance for former National Security Adviser Michael Flynn and asked him to lift the "cloud" of a Russia investigation hanging over the administration. By contrast, Comey said he spoke alone with President Barack Obama only twice in the course of three-and-a-half years and didn't document either conversation. Trump's lawyer said the president feels "totally vindicated" by what is in Comey's statement. Either way, Americans will tune into the hearing in Washington to see whether any more surprises are in store. — Brent O'Brien

China's been tightening its grip on Hong Kong as the 20th anniversary of the British colony's return approaches. As many as 10 lawmakers in the city face being kicked out of government, and some possibly jailed, for political protests against China. It's emblematic of the growing confidence with which China has exercised power under President Xi Jinping.
Five possible scenarios on how the UK election will play out.  By this time tomorrow, Britain will know who will lead it through the tricky Brexit negotiations of the coming months. Prime Minister Theresa May called the snap election to increase her parliamentary majority, but a series of political missteps and two terror attacks have changed the tone and direction of the campaign. From a May landslide to a Jeremy Corbyn surprise, we tell you what each of five results will mean for Brexit.
Billionaire investors are sending out a warning. Paul Singer, founder of hedge fund Elliott Management Corp. that manages about $34 billion, says the global financial system is "as leveraged — and in many cases more leveraged — than before 2008." Bill Gross is singing a similar tune. He says U.S. markets are at their highest risk levels since the 2008 crisis. 
The Chinese stock that soared 4,500% is skyrocketing again, and the company doesn't know why. Wins Finance, the loan guarantor that saw its stock soar as 2017 began before erasing those gains, climbed as much as 184% to $230 on Wednesday — compared with about $20 at the start of this month — before Nasdaq halted trading. 
Tokyo's nights may soon be lit up by a country 1,700 miles away. Coal burned in Mongolia may someday power China, Russia, South Korea and Japan. That's the idea behind plans in Asia for so-called super grids, which would send power from countries with relatively few people -- but lots of wind, sun and fossil fuels -- to distant population centers hungry for electricity.
Try getting your kid into a Beijing public school. With cutthroat competition for school places, and preference given to families who live near desirable schools, some parents are downsizing their homes and moving into small flats in the vicinity. Others are splashing out on apartments nearby that they have no intention of living in. But the authorities keep tweaking the rules.
The big trend in shades this summer is right above your nose. The "top bar," also know as a brow bar or top bridge, is going, well, over the top this season. Just look at all these chunky fabrications and funky articulations.

Quotes from this Article
Before it's here, it's on the Bloomberg Terminal.
LEARN MORE