Trump 'Absolutely' Has Confidence in Sessions, Spokeswoman Says
By and
President's aides encouraged him to keep attorney general

Sessions had earlier suggested he might resign amid discord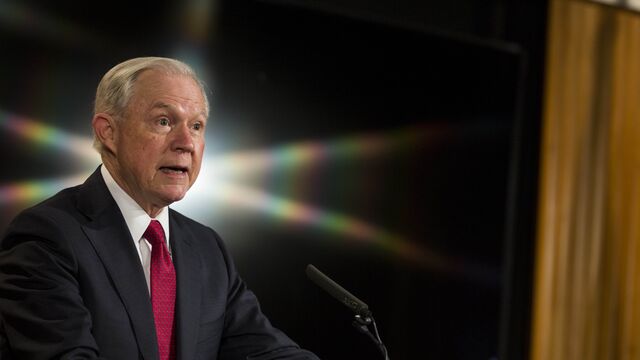 White House spokeswoman Sarah Huckabee Sanders told reporters President Donald Trump "absolutely" has confidence in Attorney General Jeff Sessions, affirming support for a cabinet member Trump's team had declined to publicly back earlier this week
Trump has been frustrated and angry on a few occasions with Sessions, but not enough to seriously consider replacing him as attorney general, said two other White House officials, who spoke on condition of anonymity to discuss a personnel matter.
Trump's frustration with Sessions stemmed from the attorney general's handling of the administration's failed travel ban and for recusing himself from the Russia probe, according to two White House officials.
Sanders supplied the public backing for Sessions at the White House's daily press briefing as FBI director James Comey testified to a Senate committee on the Russia investigation. Earlier in the week, White House press secretary Sean Spicer declined to say whether Trump retains confidence in Sessions.
Sessions had suggested in the past several weeks he might resign amid the widening discord, according to another U.S. official. Yet none of Trump's aides has encouraged him to fire Sessions and instead they have urged the president to keep him on the job, according to one of the officials.
For more politics coverage, subscribe to the Bloomberg Politics Balance of Power newsletter
Sessions has come under fire from the president over his recusal from the federal investigation of Russian meddling in the 2016 U.S. election, an inquiry that's now exploring whether Trump associates colluded with Moscow.
Trump also has assailed the Justice Department for its handling of the administration's controversial travel ban, and he accused it in a series of tweets on June 5 of weakening his plans to limit entry for citizens from about a half-dozen Muslim nations. Both versions of Trump's travel ban have been blocked by federal courts.
"The Justice Dept. should have stayed with the original Travel Ban, not the watered down, politically correct version they submitted," Trump said in one tweet. Trump himself signed both versions of the ban.
Senator Lindsey Graham, a Republican from South Carolina, said Wednesday that Sessions had no choice but to recuse himself.
"If President Trump is listening tonight, Jeff Sessions had no alternative, Mr. President," Graham said on Fox News. "As a lawyer, he had to get out of the way of this investigation because he was so close to your campaign. The American people would not tolerate someone being part of the campaign investigating the campaign."
Choice of Jobs
Sessions, 70, occupies a unique role in Trump's world. He was the first senator to endorse him as a candidate and defended him without reservation through the darkest moments of the campaign. After Trump's unexpected victory, the Alabama senator was given his choice of cabinet positions.
Yet, less than a month after taking office as attorney general, Sessions found himself at the center of controversy following reports that he had failed to disclose during his confirmation hearings two conversations he had in 2016 with Russian Ambassador Sergey Kislyak.
The revelations about his contacts with Kislyak forced Sessions to recuse himself from the Russia investigations. U.S. intelligence agencies have concluded that Russia hacked and released Democrats' emails during the campaign to hurt candidate Hillary Clinton and, ultimately, try to help Trump win.
Sessions has acknowledged that he met with Kislyak briefly along with other ambassadors at the Republican National Convention in July and in a longer private meeting in his Senate office in September. He has said the meetings were in the context of his role as a senator, not as an adviser and supporter of Trump.
Last month, Sessions came under fire again after the Justice Department acknowledged that he didn't disclose his contacts with Kislyak when he applied for the security clearance he would hold as the nation's top law enforcement official. The omission came on the advice of staff and an FBI investigator, the agency said.
With the recusal by Sessions, oversight of Russia-related investigations now falls to Deputy Attorney General Rod Rosenstein. Rosenstein named former FBI Director Robert Mueller as special counsel under his authority to oversee the Russia probes.
Before it's here, it's on the Bloomberg Terminal.
LEARN MORE