Merkel Party Sees ECB Hinting at Low-Rate Exit as Election Looms
By and
CDU's Fuchs: Looks like ECB starting to follow Fed's cue

Schaeuble tells campaign rally gradual exit is under way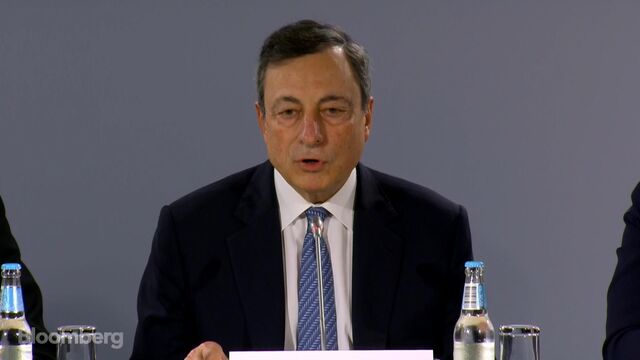 German Chancellor Angela Merkel's party heralded the European Central Bank's improved outlook for the euro area as a sign it's shifting away from record-low interest rates, which are prompting increasing complaints by politicians in Berlin in an election year.
"It's only natural that the period of super-low rates will have to end at some point," Michael Fuchs, a deputy caucus leader of Merkel's party bloc in parliament, said in emailed comments to Bloomberg. "After the Federal Reserve, the ECB's statements now also point in that direction."
Finance Minister Wolfgang Schaeuble, a member of Merkel's Christian Democratic Union, told a campaign rally in his home region on Thursday that the ECB is "on a path of gradually exiting from its ultra-loose monetary policy." The risk of deflation is over, he said in Bad Saulgau, a spa town near the Swiss border.
Merkel and Schaeuble have stepped up public references to ECB policy in recent months, saying that low rates are hurting German savers. At the same time, they've upheld the central bank's independence, deflecting U.S. criticism of the exchange rate by pointing to the ECB's need to set monetary policy for all 19 euro member countries.
German Voters
The ECB on Thursday removed its easing bias on rates, with President Mario Draghi citing an end to deflation risks and growing confidence that inflation will pick up in a durable way. For now, though, Draghi said underlying inflation remains subdued despite improved growth prospects, meaning  "a very substantial degree of monetary accommodation is still needed."
For lawmakers such as Fuchs, the ECB's policy meeting on Thursday offered a positive sliver of a message to deliver to voters in Germany's election on Sept. 24, where Merkel is seeking a fourth term as chancellor.
"The emerging shift on interest rates is a natural and necessary process," Fuchs said. "It's a good and important signal for savers and the accrual of retirement benefits."
Before it's here, it's on the Bloomberg Terminal.
LEARN MORE