Gowdy, Leader of Benghazi Probe, Picked to Lead House Oversight Panel
By
Trey Gowdy would lead House oversight and reform panel

Former federal prosecutor examined 2012 attack in Libya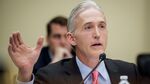 Representative Trey Gowdy, best known for investigating Hillary Clinton's response to the 2012 attack on U.S. facilities in Benghazi, Libya, was picked by Republicans on Thursday to take over as chairman of a key House committee with a watchdog role over the Trump administration.
A Republican panel's selection of Gowdy must be ratified by a majority of his party's members in the House. His appointment would leave open the question of how aggressively the Oversight and Government Reform Committee will pursue investigations of the Trump administration begun by retiring Chairman Jason Chaffetz of Utah.
Gowdy, 52, a former federal prosecutor from South Carolina, was among those considered by President Donald Trump to lead the FBI after the firing of former Director James Comey. During the Obama administration, Gowdy was chairman of the House Select Committee on Benghazi and focused on what he described as Clinton's failures in the attack on the U.S. government buildings in Libya, in which Ambassador Christopher Stevens and three other Americans were killed.
Gowdy said in a statement that he's "grateful" for the opportunity to lead the oversight panel. "I look forward to working alongside the other committee members, as well as any member of Congress, as we discharge the jurisdiction assigned to us," he said in a statement.
'Right Person'
Chaffetz announced earlier this year his intention to retire from the House before his term expires. He said Gowdy is the "right person" to take over his position.
"The committee will continue to work towards ensuring effectiveness and efficiency throughout the federal government," Chaffetz said in a statement. "I have every confidence in his abilities."
The oversight committee has broad jurisdiction, including government efficiency and ethics. In recent weeks, the Chaffetz-led panel has been stepping up requests for documents from the Trump administration regarding communications between the president and Comey. The former FBI director on Thursday answered questions at a Senate hearing about whether the president sought to quash part of a federal probe into Russian meddling into the 2016 election.
As a member of the House Intelligence Committee, Gowdy is helping to question witnesses behind closed doors for that panel's investigation into Russian interference in the election.
Gowdy became a frequent TV presence during the investigation he led into the Benghazi attack.
Two fellow Republican members of that panel -- one of them Mike Pompeo, who is now CIA director -- ended up issuing their own final report. They differed with Gowdy over the intensity of criticism that should have been leveled at Clinton, saying the panel's report wasn't harsh enough.
The oversight panel under Chaffetz has drawn headlines for its investigations of Secret Service controversies and Internal Revenue Service Commissioner John Koskinen's handling of congressional requests for information on the agency's handling of Tea Party groups' requests for tax-exempt status.
Before it's here, it's on the Bloomberg Terminal.
LEARN MORE