Kenyan Opposition Leader May Consider Tax Cuts to Woo Investors
By
Ex-Prime Minister Odinga says red tape, taxes choking economy

Kenyan debt may be reaching unsustainable levels, Odinga says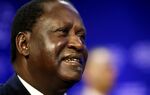 Kenyan opposition leader Raila Odinga said he would consider tax cuts to woo foreign investors and measures to boost manufacturing to drive export-led growth if he wins the country's presidential elections in August.
The National Super Alliance also plans measures to assist small-scale businesses and farmers, and a crackdown on corruption to boost revenue collection if it comes to power, Odinga said in an interview Wednesday in the capital, Nairobi. The party will release details of its economic plans when its manifesto is published around June 19.
Odinga, 72, is seeking to stop Kenyan President Uhuru Kenyatta, 55, from securing a second term in the Aug. 8 vote. He's lost three previous attempts to become president and an opinion poll conducted by Nairobi-based Ipsos shows he only has the support of 42 percent of the electorate, compared with 47 percent for Kenyatta. His tax plans echo pledges made by Ghanaian President Nana Akufo-Addo before elections in December in which he took power.
The Kenyan economy's full potential is being "choked" by over-regulation, taxes and corruption, Odinga said. "Fiscal indiscipline" and a failure to boost revenue collection is worsening government delivery, Odinga said. Odinga's government would favor offering incentives to manufacturers to help boost export-oriented growth, he said.
"Manufacturers are suffering seriously," Odinga said. "They feel that they are being overtaxed, being disadvantaged by duties which are placed on raw materials. It's punitive compared to competitors in the region."
Manufacturing Growth
Growth in Kenya's manufacturing industry slowed to 3.5 percent in 2016 from 3.6 percent the previous year, the Kenya National Bureau of Statistics said April 19. The overall economy will probably expand at 5.7 percent in 2017 from an initial forecast of 5.9 percent as output in the world's biggest black-tea exporter is weighed down by a drought, Treasury Secretary Henry Rotich said on Wednesday. The International Monetary Fund forecasts the economy will grow 5.3 percent this year.
The Kenyatta-led government's appetite for debt may have fueled borrowing to unsustainable levels, Odinga said. Total debt stock rose to 4.05 trillion shillings ($39.2 billion), or 52.6 percent of gross domestic product, in March, according to Treasury data.
Odinga said his government may consider scrapping a law capping interest rates. The ceiling, imposed by Kenyatta in August, prevents commercial lenders from providing loans at more than four percentage points above the central bank rate, currently at 14 percent.
"We don't believe that the cap on interest rates is an answer," Odinga said. "It's something that was forced on the people by circumstances."
— With assistance by Antony Sguazzin
Before it's here, it's on the Bloomberg Terminal.
LEARN MORE