Japan GDP Growth Revised Down on Decline in Oil Inventories
By
First quarter business spending better than first estimate

Private consumption growth was slower than previously thought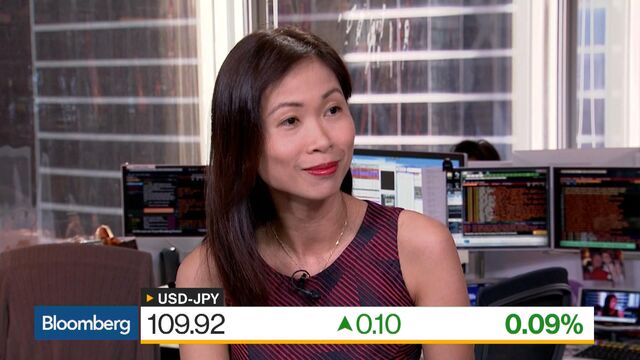 Japan's economy grew less than the government initially reported in the first quarter, weighed down by a drop in inventories of oil and other raw materials and a downward revision to private consumption.
Highlights of GDP report

Gross domestic product expanded by an annualized 1 percent in the three months ended March 31. The preliminary reading was 2.2 percent growth and economists forecast +2.4 percent.
Private inventories subtracted 0.1 percentage point from quarterly growth (preliminary figure +0.1 percentage point). 
Business spending rose 0.6 percent in the first quarter from the previous three months, compared with the preliminary reading of a 0.2 percent increase.
Private consumption gained 0.3 percent, compared with the preliminary figure of a 0.4 percent gain. 
Key Takeaways
A decline in stores of oil was the largest factor in the downward revision to inventories, according to the cabinet office, which releases the data. The rise in oil prices led to a drop in demand, which combined with regular maintenance of tanks and refineries to cut the volume of oil stored in Japan.
This hasn't changed the overall picture of continued strength in exports and firmer domestic demand, which underpinned the fifth consecutive quarter of growth -- the longest run of expansion since 2006. While business investment expanded on the strength of foreign demand, the key for a sustained recovery will be whether wages start to grow strongly enough to encourage better private consumption.

Economist Views
"The extent of the revision is pretty shocking but it would be a mistake to jump to the conclusion that Japan's economy is starting to slow down," said Yoshiki Shinke, chief economist at Dai-ichi Life Research Institute. "This doesn't change the overall picture for Japan's continuing recovery."
Lower inventories aren't necessarily a bad thing for the economy, Shinke said, adding that the data increased the chances for stronger growth in the second quarter.
"The big revision was a surprise, but its content largely made sense," said Hiroaki Muto, chief economist at Tokai Tokyo Research Center in Tokyo. "Domestic demand is very cautious while external demand is taking the lead."
"Stagnant wages are the reason why consumer spending is struggling to rise," Muto said.
Other Details

Measured quarter on quarter, GDP expanded 0.3 percent in the first quarter, less than the preliminary reading of a 0.5 percent growth (estimate +0.6 percent).
Public investment fell 0.1 percent, unchanged from the initial figure.
Net exports, or shipments less imports, contributed +0.1 percentage point to GDP, unchanged from the initial release.
Japan's current-account surplus was 1.95 trillion yen in April ($17.7 billion), according to a separate set of data.
— With assistance by Tomoko Sato, Toru Fujioka, and Yoshiaki Nohara
Before it's here, it's on the Bloomberg Terminal.
LEARN MORE