Italy Threat of Populist Win Put Off as Main Parties Squabble
By
Bond yields fall after election-law pact said to be 'dead'

Renzi's party blames Five Star Movement for 'betrayal' on vote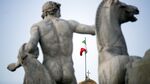 Investors rejoiced on Thursday as the prospect of Italian elections leading to either a hung parliament or a win of the anti-establishment Five Star Movement, or both, was suddenly downsized.
The euro region's third-biggest economy unexpectedly moved away from a possible vote in autumn after a multi-party agreement on a new election law failed to hold up in parliament.
"The law is now dead," Emanuele Fiano, the Democratic Party lawmaker in charge of coordinating the bill's passage through the lower house, said on Thursday in an interview on RaiNews24. He blamed the opposition Five Star Movement's lawmakers for voting in favor of an amendment to the bill that had not previously been agreed upon.
The yield on the Italian 10-year bond fell 14 basis points to 2.16 percent narrowing the yield spread with German bunds to 189 basis points at 4:20 p.m. local time. On Italy's stock market, the FTSE MIB benchmark index was up 1.3 percent.
Speculation this month that Italy may have been headed toward elections as early as September had driven up bond yields and pushed down stocks. Investors had said that the agreement on an electoral law was a negative, given that a non market-friendly party could win in the vote. The Five Star Movement, calling for a referendum on Italy's euro membership, is neck-and-neck in opinion polls with the ruling Democratic Party led by former premier Matteo Renzi.
Voting Law
The lack of a new voting law remains the main obstacle for President Sergio Mattarella to dissolve the Rome-based parliament. Its approval would have paved the way for snap elections before the scheduled end of the legislature in early 2018.
Renzi's Democratic Party has 282 members in the 630-strong lower house. Northern League and Forza Italia, the other forces that agreed in principle on the new electoral-law bill, count respectively 19 and 50 members. Five Star, also part of the multi-party deal, has 88 members in the house.
Later in the day, the lower house voted in favor of sending the election law proposal to an internal committee for discussion, temporarily halting the approval process.
— With assistance by Kevin Costelloe
Before it's here, it's on the Bloomberg Terminal.
LEARN MORE