Draghi Still Missing Inflation as Growth Pushes ECB Near Exit
By and
Governing Council meets in Tallinn to discuss monetary policy

Analysts expect ECB to label risks to growth as balanced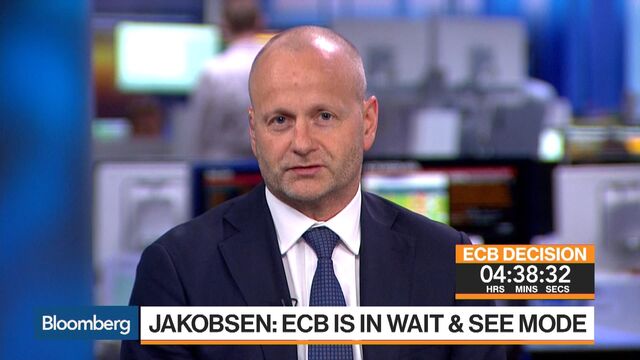 The European Central Bank's challenge of the day is to weigh improvements in economic growth against the lack of convincing inflation pressure.
The words policy makers will choose to describe the region's outlook will help determine whether the institution is moving closer toward unwinding unconventional stimulus. ECB President Mario Draghi and some of his colleagues have tried to damp expectations for any big signals in the run-up to the Tallinn meeting, arguing there's no reason to rush an exit.
The Governing Council will announce its decision at 1:45 p.m. Frankfurt time, and Draghi will hold a press conference 45 minutes later.
Set a reminder to watch the press conference live by clicking here.

On the positive side, growth is exceeding expectations. Euro-area manufacturing and services expanded at the fastest pace in six years in May, powered by the region's two biggest economies -- Germany and France. And while momentum continued to be uneven in the first quarter, with Finland's growth rate three times faster than Italy's, there are signs that fortunes for the bloc's members are beginning to align.
"Growth is so good, core inflation is so low," Michael Krautzberger, BlackRock's London-based head of European fixed income, said on Bloomberg Television on Thursday. "In a way Europe needs a longer period of very robust growth to make up for basically what some people call the lost decade."
Ninety percent of economist in a Bloomberg survey predict Draghi will acknowledge that the risks surrounding the recovery are no longer tilted to the downside, but balanced. The phrase hasn't been used since August 2011 -- under then-President Jean-Claude Trichet.

The conundrum for the ECB is sluggish inflation. While Bundesbank President Jens Weidmann argued last week that a pickup in prices this year isn't just "a flash in the pan," caution is likely to prevail.
The projections policy makers are set to receive at their out-of-Frankfurt meeting will show a weaker outlook across the forecast horizon due to a drop in energy costs, according to euro-area officials familiar with the matter.
With price growth estimated at roughly around 1.5 percent through 2019, the Governing Council may choose to postpone a change to its forward guidance, which says interest rates will stay at current or lower levels until well past the end of quantitative easing. Asset purchases are currently scheduled to run until at least the end of the year at a pace of 60 billion euros ($67 billion) a month.

One argument for subdued price pressures can be found in the labor market. Granted, the official jobless rate is close to its lowest level in eight years, but employment hasn't yet reached its pre-crisis peak and many people work fewer hours than they would like. That's keeping wage growth at bay.
Or as Draghi put it on May 29 in his final public remarks before Thursday's decision:
"We remain firmly convinced that an extraordinary amount of monetary policy support, including through our forward guidance, is still necessary," he said. "Domestic cost pressures, notably from wages, are still insufficient to support a durable and self-sustaining convergence of inflation toward our medium-term objective."
— With assistance by Manus Cranny, and Anna Edwards
Quotes from this Article
Before it's here, it's on the Bloomberg Terminal.
LEARN MORE