Detained Ivanka Shoe Workers Admitted Theft, Chinese Report Says
Bloomberg News
State media report that men confessed to recording in factory

Men were probing Ivanka-linked plants for N.Y. rights group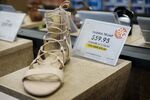 Three undercover investigators detained by Chinese police after probing a supplier of Ivanka Trump-branded shoes allegedly confessed to illegally obtaining industrial secrets for a foreign organization, according to a state-run media outlet.
The Paper, a news outlet run by the state-owned Shanghai United Media Group, reported that Su Heng, Hua Haifeng and Li Zhao, used a watch to take photos and other recording devices in a factory in Ganzhou city, Jiangxi, and took internal documents in exchange for payment. New York-based China Labor Watch said the men were working for the labor rights group to investigate working conditions at factories owned by Huajian Group, including one in Ganzhou.
Hua, among those who allegedly confessed, did not work at the Ganzhou factory, according to his lawyer Wen Yu and Li Qiang, the founder of China Labor Watch. Hua's wife, Deng Guilian, said Hua told his lawyer that "he hasn't done anything wrong and will not admit to any wrongdoing." Representatives for Su and Li could not be reached for comment.
The three were detained last month while investigating labor conditions at Huajian, which makes shoes for the brand founded by U.S. President Donald Trump's daughter. China Labor Watch said that it has been investigating conditions at fifteen factories making products for the Ivanka Trump brand in the past year and sent a letter in April to Trump pressing her to look into alleged labor violations.
Diplomatic Exchange
After the U.S State Department called for the release of the three men Tuesday, China's foreign ministry spokeswoman Hua Chunying said that the case was an "internal matter" and that "no country can interfere in China's sovereign and judicial independence." White House spokesman Sean Spicer said Tuesday the U.S. will "continue to exert the proper diplomatic pressure on that."
The Paper's report, which cited municipal police, was accompanied by images from CCTV cameras showing one of the men, Su, allegedly taking photos on the factory grounds. It also published an image of devices, including watches, cameras and USB drives, allegedly found on the men by police. Law enforcement also found a large number of pictures and recordings from the factory on the devices, the report said.
The police detained the men after receiving a complaint from a Ganzhou factory, without identifying the factory, The Paper reported. The men said that they had been conducting such activities at multiple factories in China since 2010, according to the report.
A representative for Ivanka Trump's brand declined to comment. Officials for Marc Fisher Footwear, licensed to make Ivanka Trump-brand shoes, couldn't be immediately reached after hours. Three calls to the Ganzhou police bureau went unanswered. Wei Xuegang, a spokesman for Huajian, referred to a company statement issued Wednesday that said it would no longer communicate with foreign media due to "unfair reports" in Western media outlets which has damaged its reputation.
— With assistance by Rachel Chang, and Stephanie Hoi-Nga Wong
Before it's here, it's on the Bloomberg Terminal.
LEARN MORE