Democrat Warner in Comey Hearing Cites 'Improper' Trump Meddling
By
Senator calls fired FBI director's testimony 'disturbing'

Warner says Trump appears to have violated guidelines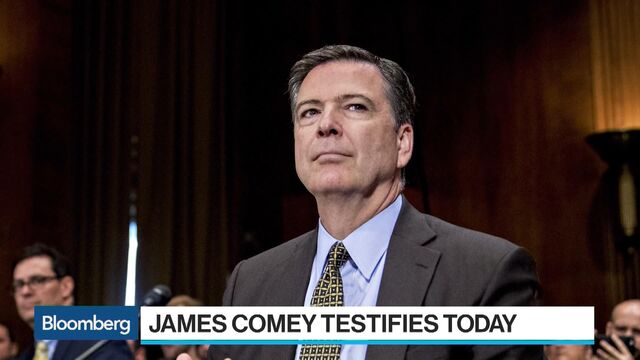 The top Democrat on the Senate panel that heard from fired FBI Director James Comey on Thursday said President Donald Trump appears to have violated post-Watergate guidelines meant to protect the independence of federal investigations.
Comey's prepared testimony raises "separate and troubling questions that we must get to the bottom of," regardless of the outcome of the panel's Russia probe, Senator Mark Warner of Virginia, the Senate intelligence committee's vice chairman, said in his opening statement.
Trump's request that Comey "lift the cloud" of the Russia investigations in calls on March 30 and April 11, as Comey described in a statement released Wednesday, appeared to be an influence to co-opt the FBI director, Warner said.
He said Comey's prepared testimony is "disturbing."
Warner's statement, excerpts of which were released in advance, were part of a furious effort to frame public perceptions of a hearing that was televised nationally.
Even before the hearing convened, the Republican National Committee and Democratic National Committee began churning out competing spin on Comey's testimony. Republicans said Comey "plays fast and loose with the truth." Democrats said his opening remarks alone showed Trump had lied four times about his interactions with the former FBI director.
Warner also cited Comey's descriptions of Trump telling Comey that he needed and expected loyalty, his urging Comey to go easy on former national security adviser Michael Flynn, and allegations Trump was pressuring senior intelligence community leaders to downplay the Russia investigation or intervene with Comey.
"This is not how a president of the United States behaves," Warner said.
Trump is counting on loyal Republicans in the hearing room to confront Comey, with members of his team also planning to compare his remarks to Comey's congressional testimony in May for evidence of possible perjury. Senators John Cornyn of Texas -- who seriously considered taking Comey's job -- and Jim Risch of Idaho are expected to question Comey aggressively, pursuing lines of inquiry favorable to the White House.
Republicans on the committee are expected to ask why Comey didn't bring his concerns about Trump to Congress, and may try to undermine him by recalling his widely criticized handling of the investigation into Hillary Clinton's use of a private email server as secretary of state.
Before it's here, it's on the Bloomberg Terminal.
LEARN MORE