China Seen Loosening Screws on South Korea Over Missile Shield
By
Beijing trade moves signal easing as Moon suspends deployment

Too soon to say friction over U.S. missile defense is past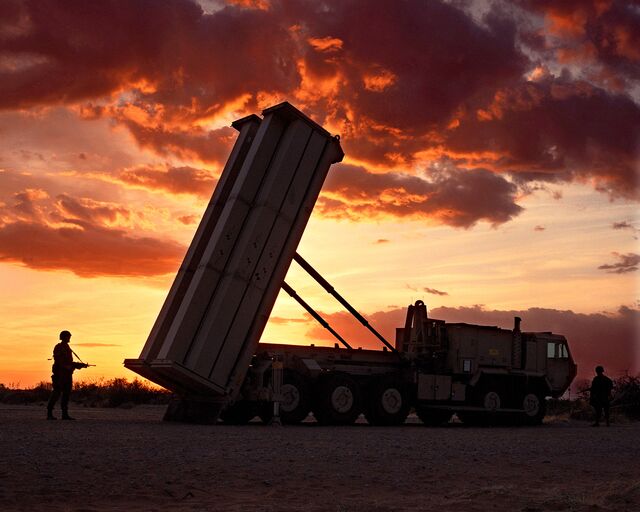 Economic tensions between China and South Korea show signs of easing as newly elected President Moon Jae-in reassesses the deployment of a U.S. missile-defense system.
The stream of complaints from South Korean companies facing troubles doing business in China appears to be coming to a halt and low-cost carrier Jeju Air has received approval from China to double the number of its weekly flights to the city of Weihai, after months of silence.
"China seems to be sending conciliatory gestures as Korea's new government shows a change of stance on Thaad," said Heo Yoon, a professor at Sogang University's graduate school of international studies in Seoul. "China has been piling up non-tariff measures on Korean companies, but it looks like the pace has slowed."
Moon has suspended deployment of the Terminal High Altitude Area Defense, or Thaad, pending an assessment of the environmental impact, Yonhap News reported on Wednesday. He's said the decision by his predecessor Park Geun-hye to go ahead with Thaad was undemocratic. 
The backlash from China, which sees Thaad as a risk to the security balance in the region, has been wide-ranging. It banned package trips to Korea by Chinese citizens, heightened customs scrutiny of Korean goods and excluded cars with South Korean batteries from government subsidies.
But with Moon's election last month, Korean agencies that handle complaints about trade practices are seeing a steep drop in China-related problems. The Korea International Trade Association said it hasn't received any complaints from Korean exporters since April 29, after getting 114 from March 9 through April 28.
Only one complaint was received from companies in the movie, broadcasting and gaming industries in May, down from 56 in March and April, according to the Ministry for Culture, Sports and Tourism.
Caution Advised
Officials cautioned against excessive optimism. The culture ministry and trade association said sharp declines in the number of complaints could be partly because Korean companies hit by Beijing's measures might simply have already finished filing them.
Kim Gi-hun, the head of the Beijing office of the Korea Creative Content Agency, said he is waiting for a key sign that would show anti-Korea sentiment among China's public is fading: uploading of the latest crop of Korean television shows to popular video-streaming websites.
Korea's exports to China remain sturdy, rising 7.5 percent in May from a year earlier, following a 10.2 percent expansion in April. Consumer goods -- those that might be most affected by anti-Korea sentiment -- only account for a small proportion of shipments. Korea mostly sells intermediate goods to China, which are key for Chinese companies to sell final products.
The anti-Korea sentiment in China has been a blow to car makers who have seen their sales decline as consumers shun Korea-branded cars. And Lotte Group, which offered land for Thaad, was ordered to shut its discount stores in China, with officials citing alleged fire-safety rule violations.
Tourism Hopes
Hopes for better ties are especially high in the tourism industry, which suffered heavily from China's ban on package trips from mid-March. Chinese tourists accounted for nearly half of all visitors to South Korea last year. The number of Chinese arriving in the country dropped 40 percent in March from the same month a year ago and 67 percent in April.
The tourism ban is hurting the Korean economy. The services industry grew only 0.2 percent in the first quarter from the previous period, compared with the overall economy's 1.1 percent expansion. It also harms private consumption, which increased 0.4 percent during January-March.
"China never admitted it's retaliating against Korea, so any lifting of bans would come without official notice," said Lee Moon-ki, a professor who teaches Chinese trade at Sejong University in Seoul. "I don't think it will take that long for China to allow one or two package trips to Korea, which would be the start of the end of the ban."
— With assistance by Sohee Kim
Before it's here, it's on the Bloomberg Terminal.
LEARN MORE