Cape Town Mops Up After Most Devastating Storm in 30 Years
By
Storm leaves nine people dead, flattens hundreds of shacks

Knysna fires drive almost 10,000 people from their homes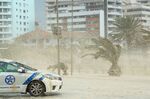 Residents of Cape Town, South Africa's second-largest city, and other towns in the surrounding Western Cape province mopped up the damage Thursday after a devastating storm that caused nine deaths, flattened hundreds of shacks and downed power lines and trees.
Four people died in a fire caused by a lightning strike in the northern Cape Town suburb of Kraaifontein, while another was killed in the Lavender Hill area when a building collapsed, according to the provincial government. About 830 shacks in the city were damaged by flooding or had their roofs ripped off. Efforts were under way to provide shelter, food, blankets and other relief to about 2,500 people affected by the storm, the worst in at least three decades, the city and provincial authorities said.
Wind speeds from the storm, which struck late Tuesday, were as fast as 100 kilometers (62 miles) per hour, and sea swells reached as high as 12 meters (39 feet). Massive waves smashed over a promenade in Cape Town's Sea Point and Green Point areas, covering it in a blanket of foam. 
President Jacob Zuma was forced to cancel a speech in the eastern city of Durban Wednesday, because the extreme weather conditions made it impossible for him to fly out of Cape Town, his office said.
The storm had largely abated by Thursday morning, a damage assessment got under way and schools that were closed on Wednesday reopened. Teams of workers were deployed to remove branches and other debris from roads and restore power connections. Across the province, 69 schools were damaged.
Fire Damage
In Knysna, about 490 kilometers east of Cape Town, a series of fires broke out and were fanned by strong winds preceding the storm. Almost 10,000 people were forced to evacuate their homes from about 20 suburbs and at least 300 structures were completely destroyed, with many more still in danger, the provincial ministry for local government said.
Three people died in fires at Rheenendal, a village outside Knysna, while the body of a three-year-old was found in the town's Welbedacht area.
"The fire continues to burn on two broad fronts," the ministry said in an emailed statement. "Reports of some evacuees heading back to evacuated areas in Knysna is a matter of concern. Citizens will be informed when it is safe to return."
While Friday is expected to be dry, more rain is forecast for Cape Town over the next six days, according to the South African Weather Service. The city badly needs the rain following the worst drought on record.
Before it's here, it's on the Bloomberg Terminal.
LEARN MORE