Brazil Court Move on Odebrecht Testimony Bodes Well for Temer
By and
Majority of judges agree to exclude recent graft statements

Political crisis casts doubt on future of Temer's reforms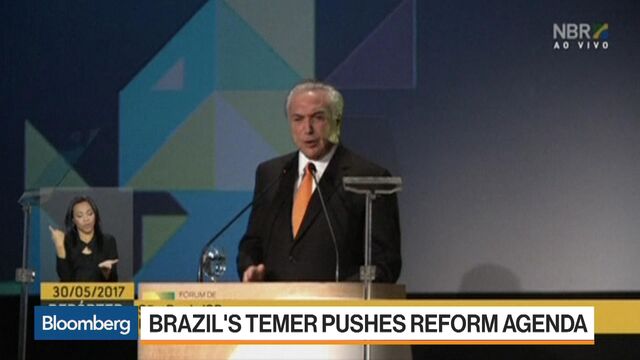 Brazil's top electoral court dismissed recent graft testimony from its deliberations on alleged illegal financing of the 2014 election campaign, in a victory for the defense strategy of President Michel Temer.
A majority of the court's seven members agreed with a request from lawyers for both Temer and former President Dilma Rousseff to ignore plea bargain statements from executives at construction company Odebrecht.
The court, known as the TSE, has now held three days of a highly anticipated hearing on whether Temer and Rousseff received illegal campaign contributions in their 2014 election victory. Both politicians deny wrongdoing. Brazilian politics has ground to a halt amid the nationally televised trial that could result in Temer's ouster. Some analysts contend that the decision to exclude the Odebrecht testimony suggests a majority on the court is minded to exonerate the president.
Proceedings are due to resume at 9 a.m. local time on Friday and a verdict on the case is expected later that day, according to the electoral court's vice president judge Luiz Fux.
"For the moment, the court is leaning toward absolving the slate," said Eloisa Machado, a law professor at Fundacao Getulio Vargas in Sao Paulo.
Since the case was filed in 2014, prosecutors working in the so-called Carwash corruption probe have gathered dozens of plea bargains describing how builders bribed politicians and executives in state-run companies to win overpriced public works contracts. Part of those bribes were allegedly used to finance political campaigns. But the TSE president, Gilmar Mendes, said on Thursday afternoon that the court would not consider those testimonies.
"The defense considers it a victory that the majority of judges agreed with the thesis that new facts should not arise in the trial that were not present in the original lawsuit," said Marcus Vinicius Coelho, one of Temer's lawyers.
— With assistance by Gabriel Shinohara
Before it's here, it's on the Bloomberg Terminal.
LEARN MORE