Better Economy Easing Canadian Housing Worries, Poloz Says
By and
Central bank flags worries about uninsured mortgages

Governor downplays financial stability, inflation conflict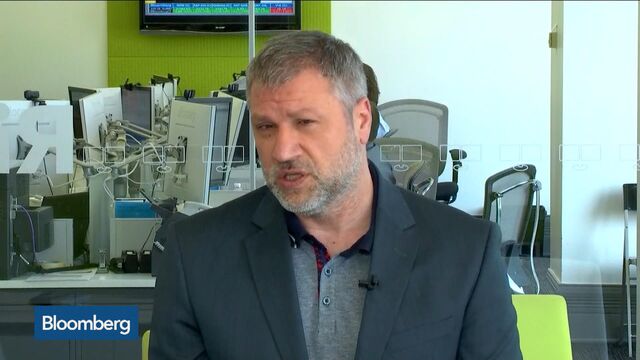 The Bank of Canada said vulnerabilities associated with household debt have increased amid surging prices for homes in Toronto and Vancouver, though not enough to threaten a financial system that is being aided by a recovering economy.
In its semi-annual report on the financial system, Canada's central bank painted a picture of a housing market in which recent government mortgage tightening measures are working, although they're being offset by the escalating costs of homes in the country's two biggest markets. In particular, policy makers cited risks around growth of uninsured mortgages.
At the same time, they concluded the financial system remains "resilient" in the face of an improving economy and the policy measures to stem housing demand, with Governor Stephen Poloz pointing out at a press conference that the central bank is less worried that its primary macroeconomic objectives -- to bring the economy to full capacity -- will continue to fuel financial vulnerabilities.
Thursday's report "continues the recent trend away from a dovish tone and towards a more neutral outlook for monetary policy," said Brian DePratto, a senior economist at Toronto Dominion Bank, said in a note to investors. "Solid and broadening economic growth, expectations of rising inflationary pressures, and the impact of past macroprudential measures on the quality of lending should all line up to enable the Bank of Canada to begin tightening monetary policy next year."
Rate Outlook
Poloz, whose interest rate cuts in 2015 helped to fuel household debt and the housing booms in Toronto and Vancouver, had spoken about the possibility of more cuts as recently as January.
"It certainly is a source of encouragement or comfort on this financial system analysis to know you go into it with a stronger economy," said Poloz, who is expected to begin raising interest rates again in the first half of next year.
In the financial system review, which outlines the central bank's thinking on risks and can seem like a laundry list of concerns, the focus turned to uninsured mortgages, which are growing as a share of total mortgage lending, mostly due to higher Toronto and Vancouver home prices and tighter qualification rules for insured mortgages.
Measures by the federal government last year to tighten the availability of credit have improved the quality of the insured mortgage sector, the central bank said. Those steps though may be pushing more higher-risk borrowers into the uninsured space, the bank said. Policy makers also flagged worries about growing home equity loans.

"Some potential borrowers have likely chosen to purchase less expensive homes, some have chosen to delay their purchases, and others may have increased their down payments and taken out low-ratio mortgages," the bank said.
The Bank of Canada cited data that showed uninsured mortgages account for 46 percent of the country's C$1.46 trillion ($1.1 trillion) mortgage credit outstanding in the first quarter of this year. That's up from 44.6 percent a year earlier. 
Friends and Family
Specifically, the central back said some home buyers are finding new ways to finance larger deposits to skirt the tougher qualification rules. "A financial stability concern could arise if a significant proportion of the funding for down payments comes from other forms of borrowing, rather than from personal savings or friends and family."
But there isn't enough data to assess how frequently co-lending arrangements occur when a mortgage is bundled with a second loan, the bank said. Increased funding for low-ratio mortgages isn't coming from portfolio insurance, which is declining. There may be some growth from private lenders who operate outside the regulated market.
The Bank of Canada also commented on the situation at Home Capital Group Inc., saying the "first steps" of a market-based solution have emerged, adding that the market expects the situation is largely isolated to the troubled lender.
"The regulatory and supervisory system worked as it is designed to do, and we are not seeing signs of broader stress," Poloz said. "Indeed, those recent events were a pretty clear indication of the resilience of Canada's financial system as a whole."
Key Points
There are growing worries about uninsured mortgages, which are increasing as a share of total mortgages. Not only is the uninsured sector growing, but the Bank of Canada is seeing some riskier mortgages within that area.
Worries include the growing use of home equity lines of credit that have been increasing at rates above income growth since early 2016.
The quality of credit has improved significantly for high-ratio mortgages (those with down payments of less than 20 percent), amid a decline in share of highly indebted borrowers. The volume of insured mortgages has also decreased.
Housing market imbalances have also risen over the past six months, increasing vulnerabilities to a housing correction. Still, macro-prudential and housing policy measures will help mitigate this vulnerability over time.
Other Details
While fundamentals remain strong in Toronto and Vancouver housing markets, they can't explain recent price gains. "Extrapolative expectations" and speculation have become more pervasive.
Foreign buyer taxes typically have a temporary effect. That includes the tax introduced in Ontario in April.
— With assistance by Allison McNeely, and Erik Hertzberg
Quotes from this Article
Before it's here, it's on the Bloomberg Terminal.
LEARN MORE