Banco Popular Flop Reminds Canada That Not All Debt Is Equal
By
Lender had its junior debt wiped out after takeover by rival

Canadian banks have been issuing similar bonds since 2014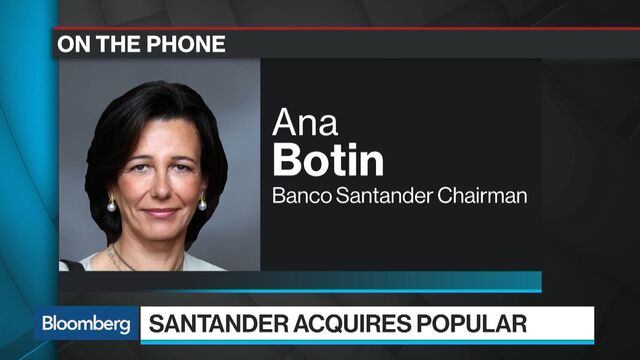 The collapse of Banco Popular Espanol SA and a subsequent wipeout of its junior debt serves as a reminder for Canadian investors lapping up similar bonds why these securities offer a higher yield than others.
The 1-euro rescue takeover of what was Spain's sixth-largest bank by rival Banco Santander SA left holders of its stock and contingent convertible bonds with losses of 3.3 billion euros ($3.7 billion). Senior debt was protected as authorities averted a run on the bank and saved taxpayers from bearing costs.
The move comes as investors across the ocean have been buying non-viability contingent capital bonds, securities which convert to equity when certain crisis triggers are hit. While no major Canadian lender is anywhere near the trouble Banco Popular was in, the Bank of Canada warned on Thursday of increased financial system vulnerabilities associated with household debt.
"NVCC capital does have value, but just be prepared that all the usual recovery rate tests that you do on senior bonds really don't apply in the case of a bail-in," said Andrew Torres, founding partner and chief investment officer at Toronto-based Lawrence Park Asset Management. "There is significant risk that in a bank crisis scenario, whether it's a single-bank crisis or a widespread bank crisis, these things will effectively be worth zero very quickly."
Read more on NVCC bonds in Canada
Canadian NVCC securities were first issued in 2014 to help meet capital requirements under Basel III regulations. The higher yield they pay over deposit notes have made them an attractive investment for the local fixed-income market, and demand has shrunk spreads over federal debt since February 2016.
There was a brief widening in spreads last month amid record supply of new notes, concern about troubled mortgage lender Home Capital Group Inc., and a credit rating downgrade by Moody's Investors Service of Canada's largest banks. However the tightening resumed this week as a popular bond index manager said it will start including NVCC notes in the gauge.
Moreover differences in the credit quality of various Canadian banks aren't fully captured in their bond prices and shrinking spreads only amplify the uniformity, according to Kris Somers, a bank credit analyst at BMO Capital Markets.
"There's always a lesson to be learned from any bank failure anywhere," Somers said. "There's a case to be made over the next few years for a differentiation between the Canadian banks."
The spread on the 2.982 percent NVCC bonds of Toronto-Dominion Bank, Canada's largest bank by assets, with a call date in September 2020 has fallen 160 basis points from its peak in February 2016, while that on the lender's 2.045 percent deposit notes maturing in March 2021 has shrunk 54 basis points over roughly the same period, according to Bloomberg data.
"It should be a bit of a wake-up call for Canadian investors," said Bill Girard, who manages corporate bond portfolios at Bank of Nova Scotia's 1832 Asset Management, arguing that Canadian investors have been buying higher-yielding NVCC bonds without fully realizing the risk. "Banco Popular investors might have thought the same. You're safe right until the point you aren't."
Before it's here, it's on the Bloomberg Terminal.
LEARN MORE