Aussies Lacking Confidence Even With Recession Fears Receding
By
Currency goes to first from worst on RBA neutrality, GDP beat

Yield curve flattens as long-term outlook mixed, housing eases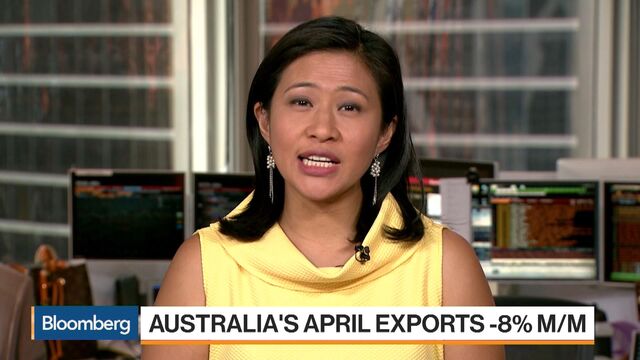 Australia saw off recession fears this week, though the economy remains anemic. The local dollar surged toward its best weekly gain since March, only to run into turbulence when Thursday's data dump showed a tumble in exports.
A flattening yield curve and a sliding stock market also highlighted concerns that the nation's 26-year streak of recessionless growth is getting weary. And the slide in Bendigo & Adelaide Bank Ltd. -- shares in the mid-tier lender reached an eight-month low -- helped underscore the drop in housing prices. Even the week's best-performing Aussie stock was nothing to cause much joy; Vocus Ltd. rebounded after an epic slide as KKR & Co. offered to buy it for A$2.18 billion ($1.6 billion).
The following charts highlight the standouts in a topsy turvy week Down Under.

The Aussie closed out May as the worst of the G-10 major developed currencies this quarter as anxiety built in the leadup to GDP figures due this Wednesday. It was up more than 1 percent by the end of the Sydney trading day Thursday, as the RBA scotched bets for a rate cut this year and then annual growth beat expectations.

Mind you, that annual growth rate -- 1.7 percent -- only just beat the 1.6 percent forecast consensus; and it also happens to be the weakest pace of expansion since 2009. And the national accounts also highlighted weakness in exports and consumer demand.
The bond market showed what it thought of matters: Short-term yields rose to reflect a lower chance of policy easing, while longer-term ones stayed down on a lack of inflation drivers. As a result the so-called yield curve -- the gap between three-year and t10-year rates -- slid below 70 basis points for the first time since November.

April trade data on Thursday also disappointed, with the impact of Cyclone Debbie on Queensland coal ports helping deliver the biggest month-on-month drop in exports for five years. All in all, no shock that weak growth has anxious consumers -- who did a lot of their spending last quarter just to cover price increases for essentials like power and fuel -- looking toward businesses who are more confident than they have been since 2010.

Bendigo & Adelaide's shareholders were also feeling uncomfortable, as the company's slide continued. Macquarie Bank Ltd. said the regional lender will struggle to keep its dividend level up because a decision to change the way Homesafe earnings are reported will lower cash profit. Bendigo led the way down in a week when all of Australia's banks declined, after data last week showed house prices dropped in May by the most since 2015.

Speaking of dropping, that was pretty much all that Vocus -- which owns a national fiber network that connects all Australian state capitals and most regional cities across Australia and New Zealand had been doing. The stock has plunged more than 60 percent in the past year as the company's decision to spend about $2.7 billion on three acquisitions between 2014 and 2016 backfired.
Vocus stock jumped after KKR's bid by the most in seven years and on Thursday closed above the offer price. Citigroup Inc. said in a report the buyout firm was trying to get hold of underperforming assets on the cheap, and its bid was too low.
— With assistance by Tim Smith, James Thornhill, and Kimberley Painter
Before it's here, it's on the Bloomberg Terminal.
LEARN MORE