U.S. Protectionism Poses Sizable Risk to Mexico Growth: OECD
By
U.S. policy could derail investment, manufacturing in Mexico

OECD boosts estimates for Brazil but warns of political risk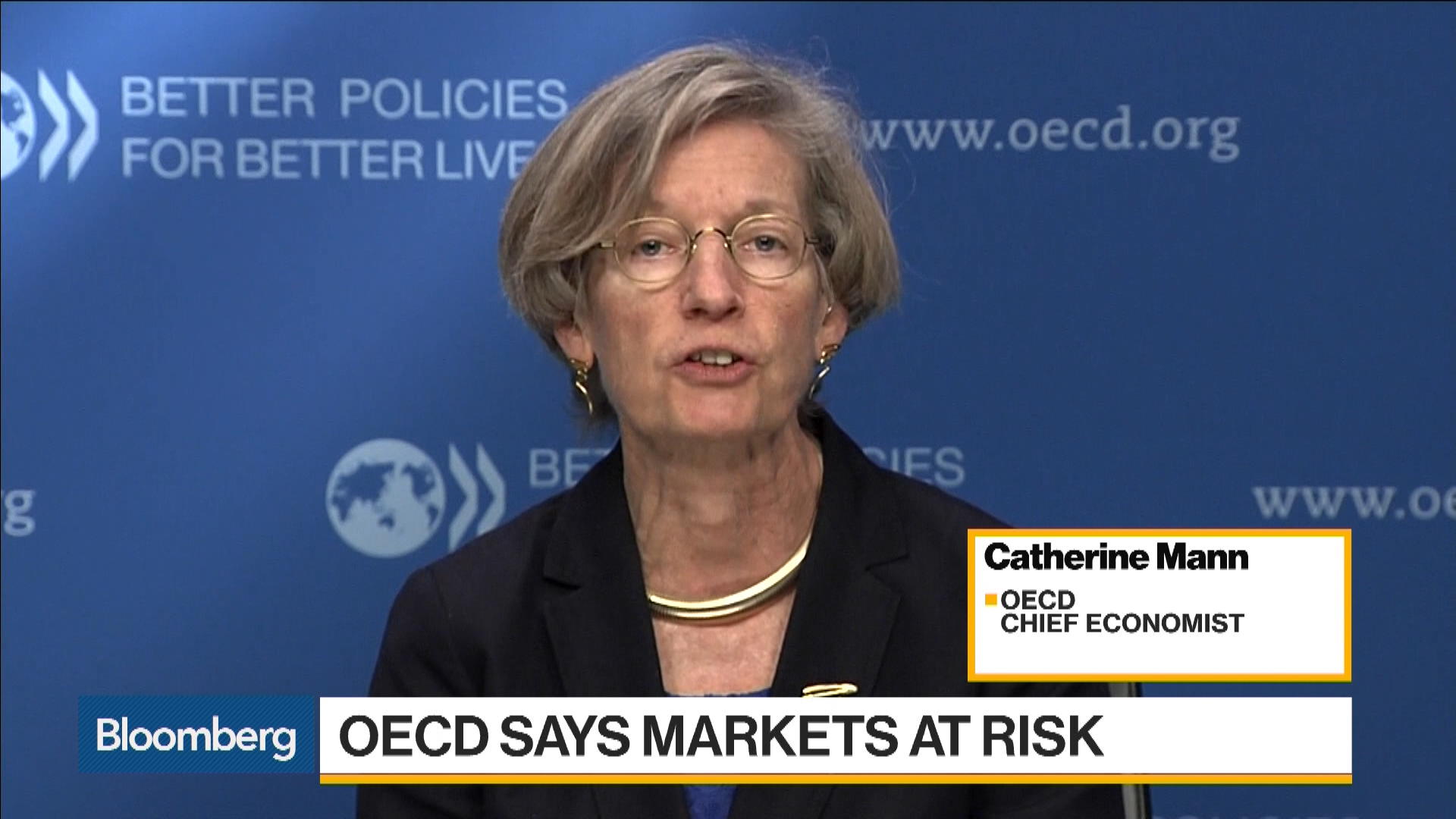 Mexico's economy faces "sizable" risks as the U.S. considers renegotiation of the Nafta free-trade agreement and other protectionist policies, the Organisation for Economic Cooperation and Development said in a report.
Latin America's second-largest economy has so far proved itself resilient to the rhetoric of Donald Trump, who assumed the presidency in January promising to rewrite the trade deal. The Mexican peso has recovered recent losses and now trades at levels seen before the U.S. election. While Mexican investments that have since been put on hold are expected to resume, more turbulence from a protectionist push can't be ruled out, according to the OECD economic outlook.
"Unfavorable policy announcements in this area could derail investment, manufacturing production and exports," said the OECD. "Lower revenue collection stemming from weaker growth could endanger fiscal consolidation plans and call for further cuts in government spending, weighing further on growth."
The OECD cut its estimates for the Mexican economy and now expects it to expand 1.9 percent this year and 2 percent in 2018 -- roughly in line with with forecasts from economists surveyed by Bloomberg.
Trump has notified Congress last month of his plans to renegotiate Nafta, saying the trade deal has been hurting U.S. competitiveness and jobs -- some of the same arguments he used to announce the country's withdrawal from the Paris climate accord last week. That leaves a cloud of uncertainty hanging over Mexico, whose economy has been suffering from a surge in inflation that prompted the central bank to raise borrowing costs to an eight-year high.
Mexico is open to "rebalancing" its trade surplus with its northern neighbor as long as the U.S. does not impose tariffs or other restrictions, Economy Minister Ildefonso Guajardo told Bloomberg on Tuesday.
Brazil Membership
The developed-nation club improved its outlook for Brazil, and now sees Latin America's largest economy growing 0.7 percent this year and 1.6 percent in 2018. Risks to that forecast include political uncertainty and rising corporate defaults, it said. Brazil emerged from its worst recession on record in the first quarter but some economists warn the economy could shrink again due to fresh political scandal.
As part of Brazil's broader strategy to consolidate recovery by boosting investor confidence, President Michel Temer's administration requested the OECD accept Brazil as a member. Finance Minister Henrique Meirelles, who's in Paris for the group's ministerial meeting, said on Twitter that Brazil's bid to join the organization "is being very well received."
If Brazil's recession is protracted, it could weigh on growth of neighboring Argentina, according to the OECD's report. The multilateral organization also said Argentina's inflation will decelerate in line with the central bank's target, without providing specific forecasts. None of the 19 economists surveyed by Bloomberg believe inflation will slow to meet the nation's 2017 goal of 17 percent.
Before it's here, it's on the Bloomberg Terminal.
LEARN MORE