Spy Chiefs Refuse to Say If Trump Pressed Them on FBI Probe
By and
Warner focuses on report Trump 'interfered' in FBI inquiry

Officials say must consult White House on executive privilege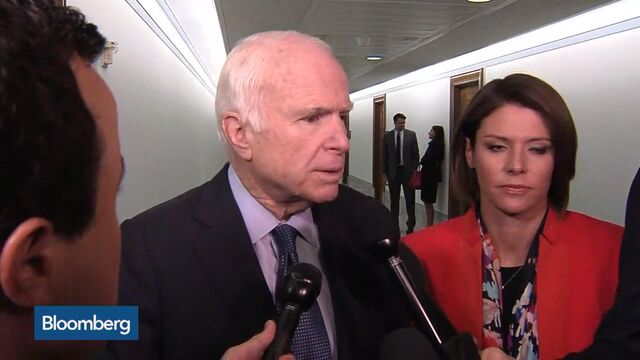 Two top U.S. intelligence officials refused to say whether they were asked by President Donald Trump to help impede an FBI investigation into Russia's role in the 2016 election.
Director of National Intelligence Dan Coats and National Security Agency Director Mike Rogers said they wouldn't answer in public questions about possible Trump interference with the inquiry. And they suggested any response in a closed hearing would require consultations with White House lawyers on whether executive privilege should be invoked.

"To the best of my recollection, I have never been directed to do anything I believe to be illegal, immoral, unethical or inappropriate," Rogers said, without answering whether he was asked -- but not directed -- to back off. Pushed further by Democratic Senator Mark Warner, Republican Senator Marco Rubio and others, Rogers repeated that he stood by his statement.
Coats, echoing testimony he gave last month, said he didn't feel it was "appropriate" to publicly share details of his conversations with the president.
Asked if they would be more forthcoming in a closed hearing, Coats and Rogers said they would have to consult with White House counsel about whether they would be asked to invoke executive privilege. Such a move would effectively shield them from having to answer the questions directly but would risk fueling congressional anger over their refusal.

Democrats were furious. "I come out of this hearing with more questions than when I went in," Warner said.
Read More About Executive Privilege as a Long Shot in Comey's Case
"I'm not satisfied," Senator Angus King of Maine, an independent who caucuses with Democrats, said angrily of Coats' explanation for not answering. "I want to understand the legal basis," King said.
"I'm not sure I have a legal basis," Coats responded.
The hearing raised the stakes for former FBI Director James Comey's testimony before the same committee on Thursday, his first public appearance since Trump fired him on May 9. The White House decided not to assert executive privilege in an attempt to restrict Comey's testimony.
The former FBI chief won't tell the panel whether he thinks the president sought to derail the federal investigation, according to a person familiar with Comey's thinking. But he will lay out key conversations and details concerning his interactions with Trump, according to the person.
Warner broached the subject of Trump's alleged conversations at a hearing originally called to discuss U.S. surveillance programs. His questions followed a report in the Washington Post that the president asked Coats if he could intervene to get Comey to back off the Russia probe, which was touching on fired National Security Adviser Michael Flynn. Trump has publicly dismissed the probe as a "witch hunt" and a "fabrication" by Democrats.
'Appalling and Improper'
"It was so jarring to hear recent reports of White House officials -- perhaps even the president himself -- attempting to interfere and enlist our intelligence community leaders in any attempt to undermine the ongoing FBI investigation," Warner said Wednesday at the hearing. "If any of this is true, it would be an appalling and improper use of our intelligence professionals."
According to the Post, less than a week after Coats was confirmed as director of national intelligence, Trump pulled him and CIA chief Mike Pompeo aside after a briefing to complain about the FBI's inquiry into Russia's role in the election. He focused his ire on Comey's handling of the probe, the Post reported, citing two officials it didn't identify.

At the hearing, Democrat Martin Heinrich of New Mexico said it "would be simple" for Coats to deny that Trump ever raised the issue of the FBI probe, and he accused the intelligence chief of being selective in determining which conversations with the president he disclosed.
"I'm not applying it selectively," Coats responded. "I do not share with the general public conversations that I have with the president."

Focusing on the announced subject of Wednesday's hearing, Coats said the intelligence community wants a controversial provision of the Foreign Intelligence Surveillance Act to be renewed. The provision, known as Section 702, lets investigators pursuing suspected foreign terrorists intercept the content of electronic communications believed to come from outside the U.S. without specific warrants -- even if one end of the exchange is inside the country or involves an American.
Section 702 was key to the intelligence community's conclusions about Russia's role in the U.S. election, NSA Director Rogers told the Senate panel.
"We could not have produced that level of insight" without Section 702 powers, Rogers said.
Since FISA was revised after the Sept. 11, 2001 terrorist attacks, Congress has repeatedly reauthorized the provision with language requiring it be renewed. The last reauthorization was in 2012.
Coats also addressed requests that the intelligence community provide data on the number of U.S. persons whose communications are incidentally collected as a result of the 702 provision. Coats said he has looked into the issue and concluded it wasn't feasible to do so.
Adding to the surge of news related to the intelligence community and the Russia probe, Trump announced on Twitter Wednesday morning that he's nominating Christopher Wray, a former Department of Justice official, as the new Federal Bureau of Investigation chief. The nomination will have to be approved by the Senate.
Before it's here, it's on the Bloomberg Terminal.
LEARN MORE