Eight People Die After Massive Storm Hits Cape Town, Surrounds
By and
Homes damaged, power lines downed, schools to reopen Thursday

Residents stay indoors as gusts reach 100 kilometers per hour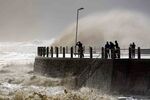 A massive storm lashed Cape Town, South Africa's second-largest city, and parts of the surrounding Western Cape province on Wednesday, claiming eight lives, downing power lines and forcing schools and some roads to close.
Four people died in a fire caused by a lightning strike in the northern Cape Town suburb of Kraaifontein, while another was killed in the Lavender Hill area when a building collapsed, said James-Brent Styan, a spokesman for the provincial ministry for local government, environmental affairs and development planning. Three people died due to fires related to the storm in Rheenendal, outside Knysna, east of Cape Town, he said by phone. The storm is expected to abate by Thursday afternoon, he said.
Wind speeds averaged from 60 kilometers (37 miles) per hour to 70 kilometers per hour Tuesday night, with gusts of as fast as 100 kilometers per hour. Some towns recorded 45 millimeters (1.8 inches) of rain.
The provincial government warned the public to stay away from the beaches, with sea swells of 12 meters (39 feet) expected. Port authorities placed tug boats on standby to assist any vessels.
Suburbs in towns along the Garden Route, about 490 kilometers (305 miles) east of Cape Town have been evacuated as more than 26 fires broke out and parts of the N2 highway in the area has been closed to traffic, Styan said in an emailed statement.
Schools which were closed on Wednesday will reopen on Thursday, he said.
While Cape Town badly needs rain following the worst drought on record, the downpour will only marginally alleviate water shortages, city authorities said. Residents are banned from using potable water to irrigate gardens, wash cars and fill up swimming pools, with the average level of usable water in surrounding dams having dropped to less than 10 percent.
Before it's here, it's on the Bloomberg Terminal.
LEARN MORE