Steinhoff Falls as Uncertainty Hangs Over Mattress Firm in U.S.
By and
Retailer's stock slumps 5.4%, most this year in Frankfurt

Recently acquired Mattress Firm incurred rebranding costs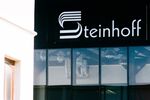 Steinhoff International Holdings NV shares slumped the most this year as the acquisitive retailer reported profit margin at its U.S. mattress chain that underperformed the rest of the business alongside 48 million euros ($54 million) of rebranding costs.
Mattress Firm's first-half adjusted operating margin was 4.5 percent, the Amsterdam-based company said Wednesday in a statement. That compared with 7.5 percent across all the retail operations, which range from South Africa's Pepkor to the U.K.'s Poundland. Steinhoff agreed to buy the U.S. business for $2.4 billion last year, and incurred the rebranding costs after subsequently acquiring the Sleepy's chain to expand in the country.
The shares declined as much as 5.4 percent in Frankfurt, the most since Dec. 14, and traded 3.1 percent lower at 4.69 euros as of 10:16 a.m. local time.
"At Mattress Firm, there are many moving parts -- first they acquired the Sleepy's chain and had to rebrand all the stores, then there was the cancellation of the Tempur Sealy contract," said Victor Dima, executive director at Arqaam Capital in Dubai, referring to the collapse of a supply deal. "The U.S. bedding market has been flat, so that's caused an additional impact," he said.
Steinhoff reported a 13 percent increase in first-half operating profit to 903 million euros, below Arqaam's expectation of 931 million euros. Sales advanced 48 percent to 10.2 billion euros as the retailer with origins in South Africa added companies including Mattress Firm. Excluding acquisitions, revenue rose 9 percent.
Africa Spin-Off
"We remain confident that the momentum in the business will continue and that the group will perform in line with expectations," Chief Executive Officer Markus Jooste said in the statement.
The results are Steinhoff's first since announcing plans to list its African assets separately following an aggressive expansion outside the continent, where it generates about two-thirds of revenue. The company has acquired Australia's Fantastic Holdings Ltd. alongside Poundland and Mattress Firm in the past year, while an attempt to merge the African business with food retailer Shoprite Holdings Ltd. collapsed in February.
"At Mattress Firm, the underlying operating profit doesn't look that good," Bloomberg Intelligence analyst Charles Allen said by phone from London. "Expectations are very difficult to judge as the goal posts are moved so often."
Before it's here, it's on the Bloomberg Terminal.
LEARN MORE