One Place Volatility Hasn't Gone Home to Die Is the Nasdaq 100
By
Tech options trade near seven-month high to S&P 500 contracts

Nasdaq 100's RSI has been in overbought level for half of 2017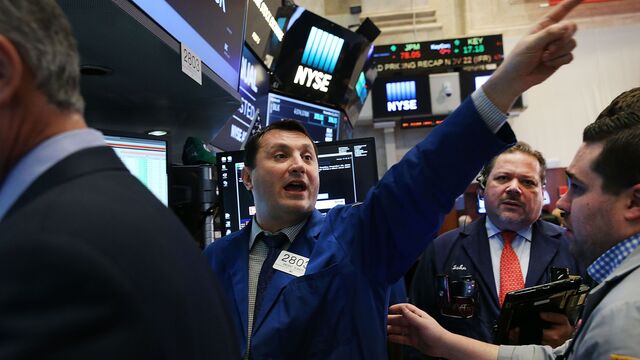 The Nasdaq 100, site of breakneck rallies in companies from Apple Inc. to Amazon.com Inc. and Alphabet Inc., is also a bastion of volatility, at least on a relative basis.
The turgidity was on display Tuesday afternoon, when a day of placid trading was broken by sudden swoons in a handful of tech megacaps. Apple lost more than a dollar and Alphabet and Amazon dropped about $10 over several minutes just after 3 p.m. in New York, shaving 0.3 percent off the Nasdaq 100 and leaving it at the low of the day.
Even with the technology-heavy gauge jumping more than twice as fast as the S&P 500 in 2017, stock turbulence has remained stubbornly high. It's measured by the CBOE NDX Volatility Index, which at almost 14 is holding around a seven-month high versus the broader market's VIX.
The volatility premium represents both a bumpier ride for Nasdaq 100 investors, who have seen 47 record closes in 2017, as well as higher demand for options-based hedging. Investors holding the gauge had to endure average daily swings of 0.4 percent this year, compared with the S&P 500's 0.3 percent.

"With some macro headwinds emerging and the fundamental stories in the Nasdaq 100 names being well recognized, there is more demand for protection on these high-flying names than there is for the more staid S&P names," said Michael Block, chief strategist at Rhino Trading Partners. "I think the probability of a 5 percent selloff is greater now than it was a couple of weeks ago."
The Nasdaq 100's 14-day relative strength index hovers at 72, above the level of 70 that some analysts view as a sign of overheating demand. It hasn't mattered to date. The gauge has jumped 21 percent in 2017 even as its RSI has been in an overbought zone for half of this year's trading days.
Investors may be noticing that in an already richly valued U.S. equity market, Nasdaq stocks are on particularly precarious ground. The Nasdaq 100 trades at 26.6 times annual earnings, its highest level in 17 months versus the S&P 500, which fetches 21.6 times, data compiled by Bloomberg show.
On Tuesday, the CBOE Nasdaq 100 Volatility gauge advanced for the fifth time in six days to reach the highest level in two weeks. The so-called FAANG stocks, including Facebook Inc., Amazon, Apple, Netflix Inc. and Google's parent Alphabet, have been among the biggest movers in the underlying index.
"The Nasdaq is getting supported by a few large companies," said WallachBeth's Capital Mohit Bajaj. "A mix of both the buyers who are still bullish and those who are hesitant about further upswing is causing the demand in volatility."
— With assistance by Oliver Renick
Quotes from this Article
Before it's here, it's on the Bloomberg Terminal.
LEARN MORE