May Targets Human Rights as Election Campaign Closes on Security
By and
Labour drops Diane Abbott as home-affairs spokeswoman

May and Corbyn tour the country on final day of campaigning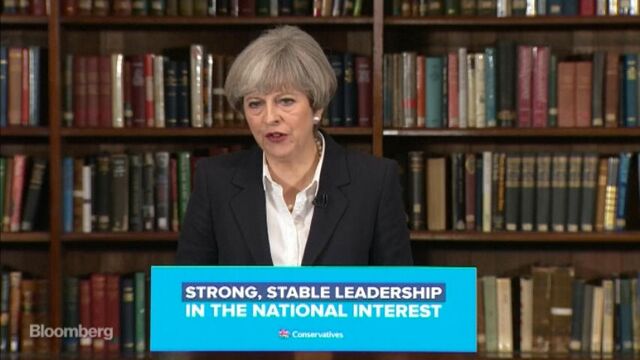 Theresa May said she'd be willing to tear up human-rights legislation to combat terrorism in a move the Labour opposition said was an attempt to distract from her cuts to police, as security dominated the closing stages of the U.K. election campaign.
The prime minister and her Labour Party opponent, Jeremy Corbyn, set out on whistle-stop tours of the country ahead of Thursday's vote, with polls all showing May's Conservatives ahead but disagreeing about whether the race is close. Privately, Labour aides and candidates are preparing to lose seats.
Speaking to supporters at a campaign event in Slough, west of London, on Tuesday evening, May said she wanted to make it easier for the authorities to deport foreign terror suspects and to curtail the freedom of individuals who pose a threat but who can't be prosecuted in court. 
"If our human rights laws stop us from doing it, we will change the laws so we can do it," May said. "If I am elected as prime minister on Thursday, that work begins on Friday."
For more politics coverage, subscribe to the Bloomberg Politics Balance of Power newsletter
May's Record
May is facing opposition criticism for her record overseeing U.K. homeland security in the wake of two terrorist attacks in two weeks. Keir Starmer, Labour's Brexit spokesman, said that as a former director of public prosecutions, he'd worked on a number of terrorism cases and "the Human Rights Act didn't get in the way of what we were doing."
Speaking to the BBC, Starmer said that May was attempting to divert attention from her responsibility for policing and security in her six years as home secretary in David Cameron's government. "Because she was facing searing questions yesterday about resources, she's brought up the Human Rights Act," Starmer said.
The act is hated by many Tories. When May attacked it on Tuesday to an audience of activists, it got one of the biggest cheers of her speech. But Pensions Secretary Damian Green insisted that the party's commitment, in its manifesto, to remain in the European Convention of Human Rights for the next parliamentary term wouldn't be affected. Instead, he said, the U.K. might opt out of parts of it. 
"The prime minister is proposing common-sense measures that would potentially give the police more powers to control people who there may not be enough evidence to bring to court," he told the BBC. "And at the same time make it easier and quicker to deport people who are a threat to our safety because that's proved a problem in the past."
Abbott Replaced
May called the election in April in an attempt to strengthen her position ahead of Brexit negotiations. But a suicide bombing last month at a pop concert in Manchester and Saturday's attack at London Bridge have shifted the focus onto security. The Tories have concentrated their fire on the Labour leader's past relationship with extremist groups, and the performance of his home affairs spokeswoman, Diane Abbott.
Corbyn replaced Abbott on Wednesday with Lyn Brown, the party's spokeswoman on police matters, due to ill health. "For a couple of days, she's taking a break from the campaign," Corbyn told the BBC.
In her final day of campaigning, May promised voters a Brexit boost of billions of pounds in state investment to support business, transport and housing. Setting out how she'd spend Britain's clawed-back contributions to the European Union budget as the country leaves the bloc, she said there'd be more money for fast internet connections, funds to commercialize research, and better road and rail services as part of a 23 billion-pound ($29.7 billion) package.
Her promise of extra investment includes 7.8 billion pounds on housing and 740 million pounds on digital infrastructure.
The Tories confirmed their pledge to give leading universities money to help them turn ideas into commercial products. They have also outlined plans to almost double research and development spending to 2.4 percent of GDP by 2025 and 3 percent in the longer term. New university investment funds will be publicly listed for investors to finance the commercialization of discoveries, the party said.
Before it's here, it's on the Bloomberg Terminal.
LEARN MORE