May and Corbyn Tout Post-Brexit Visions in Election Endgame
By , , and
Labour leader drops Diane Abbott as home-affairs spokeswoman

Leaders clash on security, spending on final day of campaign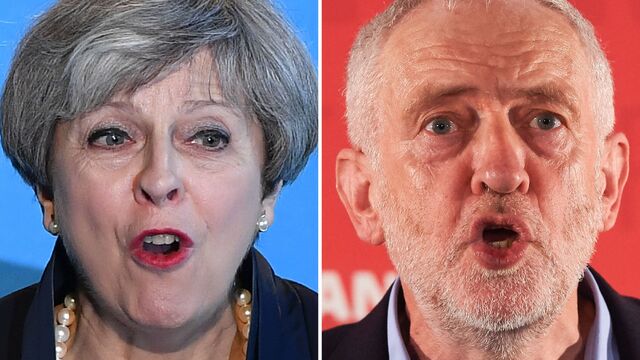 Theresa May and Jeremy Corbyn clashed on security and their respective visions of post-Brexit Britain as they made their final pitches to the nation ahead of Thursday's election.
As the prime minister and her Labour opponent each went on a whistle-stop tour of the country on the final day of campaigning, May promised voters a Brexit boost of billions of pounds in state investment to support business, transport and housing. Corbyn said the election was an opportunity to end the Conservative government's austerity agenda and build a more just society.
"It's a choice of the kind of world, kind of country we want to live in," the Labour leader told a rally in Runcorn, northwest England. "It's a choice of this or cuts, closure and privatization. It's a choice, quite simply, of hope or fear."
With polls at odds on how close the election will be, the outcome is far less certain than at the start of the campaign seven weeks ago, when May was projected to win by a landslide. Since then, the Tory lead over Labour has narrowed as Corbyn outperformed expectations and May made unforced campaign errors, while two terrorist attacks in the past two weeks added a further layer of uncertainty.
At stake is the country's future prosperity as it prepares to leave the European Union, the U.K.'s largest market. Talks with EU officials on quitting the bloc are due to begin less than two weeks after the election, with economic indicators suggesting the outlook is worsening.
Six charts showing the U.K.'s lousy economic outlook
In her final rally of the campaign, the speakers blared out "Mr. Blue Sky" by the Electric Light Orchestra and "Here Comes the Sun" by the Beatles two floors underground in a conference center near Birmingham, close to the center of England. Foreign Secretary Boris Johnson warmed up the crowd before introducing May, an appearance that may dampen speculation he'll be removed in a post-election reshuffle. "Do we want to go back to the 1970s?" Johnson asked the crowd of a few hundred activists, referring to Corbyn's policies. "And I don't mean the music."
The premier then took to the stage and portrayed the election as a choice of who is best equipped to lead the country into Brexit, thus "setting the course for generations to come."
"Only the people can give us the mandate, so my message to people is very simple: Give me the mandate to lead Britain, give me the authority to speak for Britain," May said. Strengthen my hand as a I fight for Britain. Give me your backing and I WILL deliver for Britain."
Chapel Climax
May shuttled by bus, plane and car from London to Southampton, Norwich, Nottingham and finally Birmingham on the last day of the campaign. Corbyn, for his part, started the day in Glasgow, before heading to the capital via stops in Cheshire, north Wales and Watford. He closed his campaign at a rally late on Wednesday at a chapel in London's Islington district, a stone's throw from his own constituency. Hundred chanted "oh, Jeremy Corbyn" outside as he gave his final speech, in an atmosphere more akin to a rock concert than a political rally.
Polls all show May's Conservatives ahead, but this week alone the lead over Labour ranges from 12 percentage points to just one point. Privately, Labour aides and candidates are preparing to lose seats.
In Scotland, where the Conservatives are vying to make inroads in the nationalists' hold on 56 of the country's 59 parliamentary seats, First Minister Nicola Sturgeon urged voters to reject May and her policies.
Heart of Whisky Country Is Battleground Over Britain's Future
"Scotland's voice could be decisive, so my message to people the length and breadth of our country is this: Do not wake up on Friday morning and find that Scottish votes have boosted Theresa May's majority and thrown her a lifeline," Sturgeon, who is also Scottish National Party leader, said at a rally in Edinburgh.
May called the election in April in an attempt to increase her 17-seat majority and strengthen her position ahead of the Brexit negotiations. But a suicide bombing last month at a pop concert in Manchester and Saturday's attack at London Bridge saw the focus shifted onto security. May said on Tuesday night that she'd be willing to tear up human-rights legislation to combat terrorism.
Speaking to the BBC, Labour's Brexit spokesman, Keir Starmer, said the prime minister was attempting to divert attention from her responsibility for policing and security in her six years as home secretary in David Cameron's government. "Because she was facing searing questions yesterday about resources, she's brought up the Human Rights Act," Starmer said.
Pensions Secretary Damian Green insisted that the party's commitment, in its manifesto, to remain in the European Convention of Human Rights for the next parliamentary term wouldn't be affected. Instead, he said, the U.K. might opt out of parts of it.
As May takes flak for her Home Office record, the Tories have concentrated their fire on the Labour leader's past relationship with extremist groups, and the performance of his home-affairs spokeswoman, Diane Abbott.
'Still Standing'
Corbyn replaced Abbott on Wednesday with Lyn Brown, the party's spokeswoman on police matters, citing ill health. "For a couple of days, she's taking a break from the campaign," Corbyn told the BBC. Abbott later said on Twitter that she was "still standing" and would "rejoin the fray soon."
May meanwhile set out how she'd spend Britain's clawed-back contributions to the EU budget, saying that there would be more money for fast internet connections, funds to commercialize research, and better road and rail services as part of a 23 billion-pound ($30 billion) package. Her promise includes 7.8 billion pounds on housing and 740 million pounds on digital infrastructure.
The Tories confirmed their pledge to give leading universities money to help them turn ideas into commercial products. They have also outlined plans to almost double research and development spending to 2.4 percent of GDP by 2025 and 3 percent in the longer term. New university investment funds will be publicly listed for investors to finance the commercialization of discoveries, the party said.
For his part, Corbyn repeated plans that included scrapping tuition fees for all university students, introducing free school lunches for all primary school pupils and a pupil arts premium to allow children to learn a musical instrument. He also said he'd take on the U.S. president.
A Corbyn-led government, he said, "would not be afraid to pick up the phone to Donald Trump and say, 'listen mate, you're wrong on trying to destroy the Paris climate change agreement."'
— With assistance by Thomas Penny, Tim Ross, and Robert Hutton
Before it's here, it's on the Bloomberg Terminal.
LEARN MORE