Judge Halts RBS Trial as Almost All Investors Will Settle
By and
Trial postponed while remaining shareholders mull bank's offer

Hold-outs have until June 20 to respond to settlement offer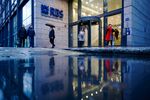 A London judge called off a lawsuit between Royal Bank of Scotland Group Plc and investors over a 2008 rights offering without a full settlement agreement, leaving a small chance for a group of holdouts to pursue the case.
After weeks of fitful negotiations, investors representing 87 percent of the claim's value will accept the 200 million-pound ($258 million) settlement, the group's lawyer, Jonathan Nash, said at a hearing Wednesday. Only one investor with a small number of shares has expressed "dissatisfaction" with the bank's 82 pence per share offer, and none have indicated they intend to refuse, Nash said.
The last week has been filled with speculation about holdouts' attempts to raise enough money to fight on, while larger shareholders and groups funding the lawsuit were happy with the bank's offer. Despite reports that a group of disgruntled investors had raised millions of pounds to keep the trial alive, lawyers said there's "no evidence there is funding available." 
'Unusual'
Today's application "is an unusual one," said Judge Robert Hildyard. However, it "strikes a balance between the interests of the parties and the interests of other court users."
Hildyard's decision all but erases the chance of a much-anticipated court showdown between investors and disgraced former Chief Executive Officer Fred Goodwin, who was running the lender when it was forced into the bailout. 
"It was made clear today in court that this delay is the result of procedural issues," RBS said in a statement. "None of the outstanding claimants have indicated any intention to continue the claim." 
The remaining investors have until June 20 to apply to the court to keep their claims alive. 
"There is division in the ranks the extent of which is not presently clear or even ascertainable in the sense that the 13 percent may be people who have delayed for whatever reason but fully intend to sign up to the agreement," Hildyard said. "What I'm being asked to do today could be to their disadvantage because once the trial is vacated, it's in the lap of the gods when it might be restored, if ever."
The investors argued that RBS deliberately concealed its financial weaknesses over its 12 billion-pound emergency rights offering. The lender disputed that it had covered up any of its actions, saying the rights-issue prospectus included all the information investors needed, and the claimants were overlooking how volatile markets were in 2008.
RBS paid 800 million pounds to settle with three quarters of the claimants by value in December. In a last minute personal intervention a few weeks ago, Chief Executive Officer Ross McEwan increased the bank's offer to 82 pence per share, up from earlier deals at 41.2 pence and 43.2 pence.
"We have been forced to endure many struggles, including having to fund and run an entire case when the other claimants settled early," a spokesperson for the shareholders group said in a statement. "Our decision and resolve to press on has been vindicated by this settlement, which is twice that accepted by others who had much greater resources."
The bank's shares have risen 14 percent so far this year, compared to a 5.5 percent increase in the value of the FTSE 100 Index of the country's biggest companies. They were up 2.2 percent Wednesday afternoon at 257.1 pence.
The case is John Greenwood v. Frederick Goodwin & Ors, High Court of Justice, Chancery Division.
Before it's here, it's on the Bloomberg Terminal.
LEARN MORE