Indian Bonds Rise as Central Bank Cuts CPI Inflation Forecast
By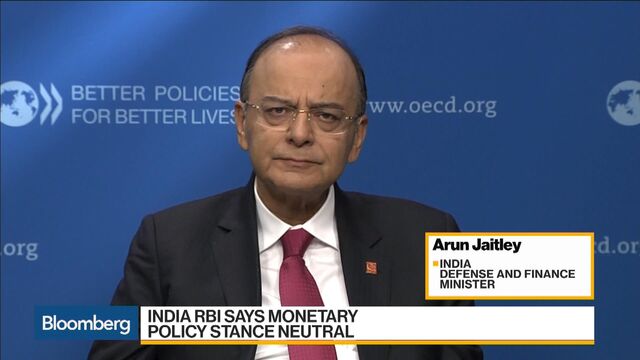 India's government bonds advanced after the central bank lowered its inflation estimates, fueling speculation its next move will be to cut interest rates.
The yield on benchmark 6.79 percent notes due May 2027 dropped seven basis points to 6.56 percent, its biggest one-day decline in three weeks. The Reserve Bank of India also reduced its forecasts for economic growth, while keeping the key repurchase rate at 6.25 percent.
"The acknowledgment of low inflation and growth paves the way for a rate action," said Sandeep Bagla, associate director at Trust Capital Services India Pvt in Mumbai. "There is high probability of a rate cut in or before the next policy meeting in August."
Bagla said he expects the benchmark bond yield will drop to 6.50 percent in the short run.
The central bank lowered its headline inflation projection for the first half of the fiscal year to a range of 2 percent to 3.5 percent, from 4.5 percent previously. For the second half, the projection was reduced to a range of 3.5 percent to 4.5 percent, from 5 percent.
The rupee appreciated 0.2 percent to 64.3325 per dollar.
The RBI lowered the statutory liquidity ratio by 50 basis points to 20 percent. The shift to a slightly less hawkish stance comes after inflation slowed to a record in April and economic growth eased to the least in two years last quarter.
All except two of 50 economists surveyed by Bloomberg predicted the RBI would leave its repurchase rate at 6.25 percent, with the others forecasting a cut of 25 basis points.
Quotes from this Article
Before it's here, it's on the Bloomberg Terminal.
LEARN MORE