HSBC's Bond Bull Major Moves Closer to Peers by a `Tweak'
By
Treasury bull market on track despite higher yield forecast

Major sees 10-year rate falling 25 basis points by year-end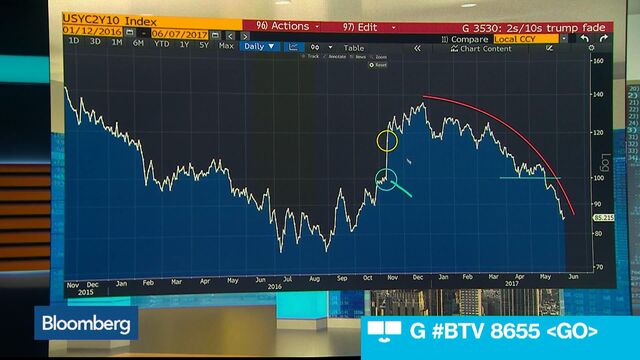 The Treasury market's biggest contrarian is edging closer to consensus.
Steven Major, the HSBC Holdings Plc head of fixed-income research who has consistently kept his year-end outlook for U.S. Treasury bond yields far below peers, raised his forecast to 1.9 percent from 1.6 percent in a note published Wednesday. The outlook is still the lowest among 59 analysts surveyed by Bloomberg and represents a 26 basis-point drop from current levels.

The change in forecast represents only a "tweak," Major wrote in the note affirming his view that the decades-long bull market for bonds will continue. Higher yields on short-term securities present a constraint to how much further longer-term interest rates can fall, while a reduction in geopolitical risks means the Federal Reserve is more likely to continue to raise borrowing costs, he said.
"The passage of time necessitates that we review the forecasts, as does the change in circumstances, which has seen the Fed deliver on promises to hike rates, in line with its forecasts of an improving economy," Major said.
Major stood out in 2014 for correctly predicting that 10-year yields would drop to about 2.1 percent, while the median forecast at the start of the year was 3.4 percent. His forecast of 1.5 percent by year-end 2016 looked prescient in the aftermath of the Brexit vote, though it was overtaken by events when Donald Trump's election as president sent yields soaring.
Major maintained his yield forecast for the end of 2018 at 2.3 percent, saying that "structural challenges limit how far yields can rise." The analyst has argued that any increase in bond yields due to a pickup in inflation from Trump's spending plans would be self-limiting, taking more away from growth than any fiscal stimulus would add.
"Our view was and remains that the late cycle, over-indebted U.S. economy cannot take significantly higher yields," he wrote.
Quotes from this Article
Before it's here, it's on the Bloomberg Terminal.
LEARN MORE