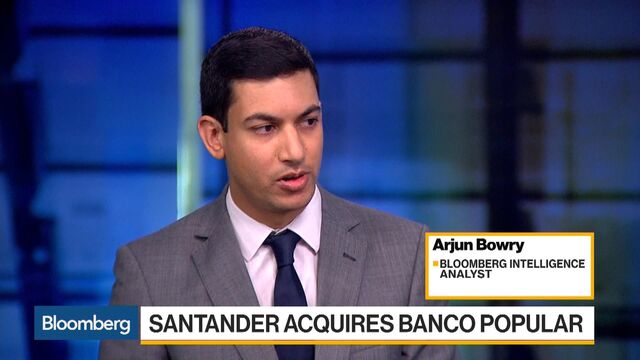 Banco Popular Espanol SA's decade-old crisis is finally coming to an end. It's being swallowed by Banco Santander SA, Spain's biggest bank, in an agreement that rescues the lender's customers and senior creditors at the expense of shareholders and junior bondholders. It's the first real test of Europe's post-crisis bank resolution rules.
1. Which investors get wiped out?

Shareholders always lose when banks fail -- and this time is no different. The bank had a total market capitalization of 4 billion euros ($4.5 billion) at the start of the year; now, the entire bank is being forcibly acquired for just 1 euro. Bondholders with about 2 billion euros of junior notes are also losing everything. That's the new normal when European banks fail.
It's also the first time that contingent convertible bonds specifically designed to absorb losses, known as CoCos or additional Tier 1s, have been wiped out. Pacific Investment Management Co. owned about 280 million euros of the securities at the end of March, according to regulatory filings. Some junior bonds may be owned by retail investors, opening up possible legal claims for mis-selling, according to research analysts at Kepler Cheuvreux.
2. Who gets saved?

The takeover secures corporate and retail deposits. It's also good news for the holders of roughly 1 billion euros of senior unsecured debt, which will be transferred to Santander. The price of those bonds jumped at the same time as the AT1 price fell to zero. And unlike previous bank failures in Spain, taxpayers won't be called on to provide funds. That's no small achievement. By contrast, Italy's government is due to inject billions of euros into Banca Monte dei Paschi di Siena SpA and Portugal's government has propped up a domestic state-owned bank.
3. Why did the deal get done this way?

European regulators cited the risk that "important functions" of the bank were breaking down and short-term funding was drying up, without providing exact details. Moody's Investors Service, which downgraded the bank late Tuesday, warned that a barrage of negative news was hitting clients' confidence. The following morning, Europe's Single Resolution Board declared the bank likely to fail. That allowed an immediate write-off of liabilities and the fire sale to Santander on more generous terms than Popular's management was seeking.
4. How did things get so bad for Popular?
Blame missteps in real estate. The bank's woes stem from the loans it made in the years before a housing crash pitched the economy into a five-year slump starting in 2008. Popular then went on to shun the chance to take state aid in 2012, when a stress test uncovered a capital shortfall. Instead, it embarked on a series of share sales that so far have raised 5.5 billion euros without coming close to convincing the market that its property purge is complete. Popular's first-quarter earnings statement showed it still had 37 billion euros of non-performing assets on its balance sheet. The bank's CET1 fully loaded ratio, a measure of solvency, stood at 7.33 percent in March, one of the weakest among European lenders.
5. What does this mean for other troubled banks?
If markets are to be believed, not much. Similar bonds at other European banks weighed down by bad loans, such as Bank of Cyprus Holdings Plc, were little changed on Wednesday. The $140 billion market for AT1 bonds was also stable. Regulators have shown their teeth, but investors are betting that the worst is over and the continent's biggest banks are safe. "There is an element of complacency," Hermes Investment Management's Filippo Alloatti said before the resolution was announced.
The Reference Shelf
— With assistance by Katie Linsell
Before it's here, it's on the Bloomberg Terminal.
LEARN MORE