Hedge Fund Said in Talks to Buy $270 Million Monte Paschi Loans
By and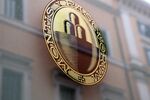 Banca Monte dei Paschi di Siena SpA, whose survival may depend on a bailout from Italy, is in exclusive talks to sell a batch of non-performing loans to York Capital Management LP, according to a person with knowledge of the matter.
The loans have a face value of 240 million euros ($270 million) and were made to Impreme SpA, a property developer owned by Rome's Mezzaroma family, said the person, who asked not to be identified because the talks are private. York Capital, a New York-based hedge fund, is offering more than 40 cents on the euro for the debt, the person said.
A spokeswoman for Monte Paschi and a spokesman for York Capital declined to comment.
Monte Paschi is preparing to sell its soured loans to appease European and Italian officials who last week agreed on a plan that paves the way for a recapitalization of the world's oldest bank. The Siena-based lender was forced to turn to Italy for aid after failing to raise extra capital from investors in December.
Sales of Italian non-performing loans may rise fourfold to as much as 80 billion euros this year as lenders step up efforts to clear their bad debts, according to Banca Ifis SpA. Bain Capital, Fortress Investment Group LLC, Lone Star Funds and Varde Partners LP are among global investors vying to purchase these loans as they seek to improve their returns in a world of near-zero interest rates.
Assets backing the Monte Paschi loans include residential developments in the Italian capital, said the person with knowledge of the negotiations.
Before it's here, it's on the Bloomberg Terminal.
LEARN MORE