Hedge-Fund Bet on Banco Popular Collapse Yields Maximum Gain
By
Firms including Samlyn Capital, Marshall Wace shorted stock

Wipeout of bank's shares hands funds biggest-possible returns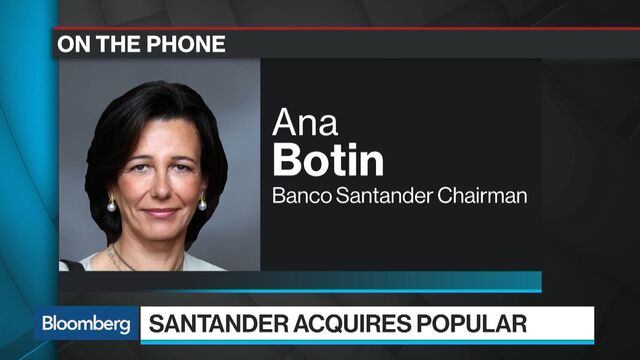 It's the sort of event hedge funds were made for.
Banco Popular Espanol SA's takeover by Banco Santander SA for a token 1 euro wiped out the troubled lender's stock and meant that, for the hedge funds betting against the bank, the gains could not have been greater.
Among the beneficiaries are Samlyn Capital LLC and Marshall Wace LLP which pushed short positions on Popular's shares to a record high last month. Short sellers typically operate by selling borrowed stocks and buying them back at a lower price once they've -- hopefully -- fallen.
Santander struck the deal to save Popular after regulators determined the lender was likely to fail and ordered it to be sold. The forced sale is the first major action by the European Union's Single Resolution Board, which decreed that Madrid-based Popular's stock and riskiest bonds be canceled.

"The outcome is the right one for the European and Spanish banking system," said Rob Pohly, a New York-based money manager at Samlyn Capital, which oversees $4.4 billion in assets and is the biggest short seller of Popular stock. "We don't anticipate a problem with our position."
Yet the wiping out of these shares and notes creates a challenge for hedge funds, since there is no longer any Popular stock for the short-sellers to buy back to settle their wagers.
Officials at two hedge funds and two prime brokers with positions on the Spanish bank said the cancelation of the shares effectively means the shorts no longer exist and that they can realize their profits without having to buy back the stock. The officials asked not to be identified because they're not authorized to speak to the press.
Record Shorts
A record 15.4 percent of Popular's outstanding shares worth more than $500 million were loaned to short sellers last month, according to Markit. In the week leading up to the rescue, some hedge funds were paying annualized fees of as much as 50 percent to borrow the stock, up from about 3 percent at the start of the year, the data provider said.
Samlyn Capital boosted its short bets on Popular to as much as 1.8 percent of the bank's shares in May, from less than 1 percent at the start of the year, filings with the Spanish regulator show. Oceanwood Capital Management LLP increased its wager to 0.8 percent of the stock last month, from about 0.5 percent in April, while Marshall Wace cut its short bets to 1.7 percent in June, from 2 percent at the end of May.
Holders of credit-default swap insurance on Popular's junior debt are also likely to profit, along with sellers of protection on the bank's senior bonds. The lender's rescue has its losers too, among them so-called long investors such as Pacific Investment Management Co.
A spokesman for Oceanwood and a spokeswoman for Marshall Wace declined to comment.
— With assistance by Katie Linsell
Quotes from this Article
Before it's here, it's on the Bloomberg Terminal.
LEARN MORE