Five Things You Need to Know to Start Your Day
Get caught up on what's moving markets.
By and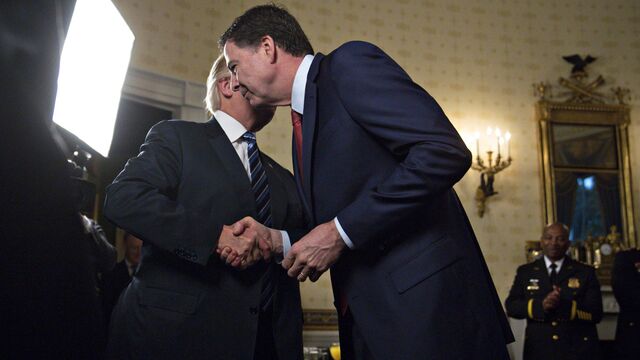 Want to receive this post in your inbox every morning? Sign up here
Wall Street braces for Comey, Santander buys Banco Popular, and markets are steady ahead of tomorrow's excitements. Here are some of the things people in markets are talking about today.
The Comey sessions
One of Thursday's big scheduled events may not be so momentous after all, if early leaks of James Comey's testimony are to be believed. The fired FBI director will publicly describe conversations with President Donald Trump, but stop short of saying if he thinks the president sought to obstruct a federal probe of Russia's role in the 2016 election, according to a person familiar with his thinking. Still, there are fund managers out there who think that, compared with the high degree of consensus surrounding the ECB's next move, Comey is tomorrow's wildcard. On a related note, Jeff Sessions is said to have offered to resign as U.S. attorney general over growing tensions with the president, according to a person familiar with the matter. 
Popular wipeout
Banco Santander SA agreed to buy Banco Popular Espanol SA for a nominal 1 euro ($1.13), after European regulators determined that the troubled lender was likely to fail and ordered it to be sold. All of Popular's junior bonds will be wiped out as part of the deal, including its additional Tier 1 notes. That marks the first write-off of AT1s industrywide since regulators developed the bonds in the wake of the financial crisis as part of efforts to transfer risk to investors from governments. Read more about bail-ins here. 
Middle East tensions
Gunmen in Iran killed a least one person in twin attacks that targeted both the country's parliament and a shrine dedicated to the Islamic Republic's founder, state media reported. Nearby, the diplomatic crisis in the Gulf shows no sign of abating, with Trump backing the Saudi-led isolation and a new suggestion that Russian hackers helped exacerbate tensions by planting fake news in Qatari state media. While the emirate still has many friends in the energy market, its $135 billion stock market is the most volatile globally. 
Markets stable
Haven assets steadied after yesterday's advance, with gold edging lower. While the MSCI Asia Pacific Index was little changed, the Shanghai Composite jumped 1.2 percent to the highest in a month, and Europe's Stoxx 600 Index was headed for its first gain in three days as of 5:41 a.m. Eastern Time. Oil slipped after yesterday's U.S. data showed a large expansion in gasoline stockpiles, offsetting the bullish influence of another decline in crude inventories.
Coming up...
It's a quiet day for U.S. data, with just April consumer credit figures for March published at 3 p.m. Eastern Time. Germany's disappointing factory orders may provide food for thought for the European Central Bank, which releases its latest policy decision Thursday. There's also the small matter of the U.K. election tomorrow, which traders say could topple the pound in the event of a hung parliament.
What we've been reading
This is what's caught our eye over the last 24 hours.
Before it's here, it's on the Bloomberg Terminal.
LEARN MORE