Ex-FCA Chief Wheatley Returns, Still Vies to Reform Bank Culture
By , , and
Martin Wheatley was ousted as FCA chief executive 2 years ago

Wheatley working at Hong Kong hedge fund, fintech firms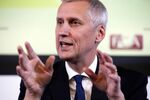 Two years after his unceremonious ouster as head of the U.K. Financial Conduct Authority, Martin Wheatley is back and his appetite to clean up bank culture unabated. Working in the private sector with a number of fintech firms, he's helping find new ways to identify bad apples.
"Financial services, particularly in the larger, complex institutions, have got a long way to go for something that imbues the company at every level," when it comes to culture, Wheatley said Tuesday in an interview with Bloomberg in Hong Kong. "Organizations have lost touch, lost control of what people have been doing."

Looking relaxed over lunch at local hedge fund Oasis Management Company Ltd., where he's taken a role on the advisory board, Wheatley said he's turned his focus to the fintech sector, where he's working with, among others, U.S. data analytics firm Starling Trust Sciences. The company uses behavioral science, something Wheatley promoted at the FCA, to help identify potential rogue employees within companies.
Starling uses "the digital footprint that we as individuals leave within our company, whether that's through email traffic, messages, diaries, and creating analytics that will allow you to identify outliers within your company," Wheatley said. He's currently helping the firm as it attempts to access the U.K. market.
Wheatley had a front-row seat to the problems created by rotten cultures in the financial services industry. Taking up the helm of the newly-created FCA in 2013, after its predecessor the Financial Services Authority was split in two, Wheatley presided over an era of multi-million dollar penalties against the industry for misconduct. Fines against banks for attempting to manipulate key currency benchmarks in 2014 totaled $1.7 billion on his watch.
But in July 2015, one month after then-U.K. Chancellor George Osborne declared an end to an era of "ever-larger" fines against banks, Wheatley was out. He was ultimately succeeded by former Bank of England Deputy Governor Andrew Bailey, who was asked by Osborne to take up the role.
Laying low since his departure, Wheatley has spent the last two years enjoying his hobby: making furniture. Returning to work, he's not planning to ever have a full-time job again but using his experience the 58-year-old hopes to continue to help shape the future of financial services.
Quotes from this Article
Before it's here, it's on the Bloomberg Terminal.
LEARN MORE