ECB Preview: Hawkish Risks Underpriced as Draghi May Drop Words
Stephen Spratt and Stefania Spezzati
Strategists favor steepener trades in front end of rate curve

Euro may weaken if ECB is less hawkish than expected: BofAML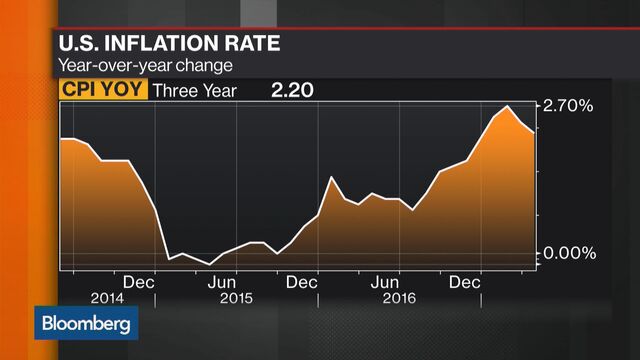 Money markets are underpricing the risk that Mario Draghi will tweak policy language Thursday to signal a potential shift away from the European Central Bank's accommodative bias, analysts say.
While there's a broad consensus that the ECB president will likely remove words that stress risks of further economic weakness and room for more easing, views are mixed on how far he will go to signal the change. Given the odds of such moves and with European money markets reflecting barely 10 basis points in interest-rate increases through 2018, most strategists see scope to position for a more hawkish repricing of policy prospects.
Ninety percent of respondents in an earlier Bloomberg survey said the ECB will acknowledge Thursday that the risks surrounding the euro area's recovery are now balanced. In recent weeks, Draghi and some fellow policy makers have damped expectations for any significant signals, warning that weak price pressures show there is no reason to rush to withdraw monetary support. An ECB statement that's less hawkish than expected could cause the euro to weaken, according to Bank of America Merrill Lynch and Credit Agricole SA.
The central bank is likely to take "baby steps" toward policy normalization, analysts at Bank of America including Gilles Moec wrote in a note to clients dated June 6. "We expect the ECB to follow a very gradual exit path from unconventional policies and keep its options open for now. Draghi will likely avoid any details on quantitative-easing tapering for now."
In Draghi's Words
Below are some key extracts from the ECB's April 27 statement that analysts say could see alterations on Thursday:
ECB on growth: "The risks surrounding the euro-area growth outlook, while moving towards a more balanced configuration, are still tilted to the downside and relate predominantly to global factors."

Expected change: Risks to growth may be described as "balanced" with reference to "downside" removed, according to banks including Goldman Sachs, Morgan Stanley, Bank of America Merrill Lynch, Deutsche Bank, Barclays

ECB on rates: "We continue to expect them to remain at present or lower levels for an extended period of time, and well past the horizon of our net asset purchases."

Expected change: The broad consensus is that the words "or lower levels" will be dropped, removing the easing bias on rates, based on views from banks including JPMorgan, Morgan Stanley, RBC

Goldman sees less than 50% probability that reference to "lower" will be cut

The most hawkish expectation, from a minority of analysts, is for the words "well past" to be removed. Despite Draghi and ECB Executive Board member Peter Praet seeing "strong logic" in sequencing any rate changes to follow a tapering of asset purchases, Citigroup suggests the debate isn't closed as banking-sector profitability is expected to be eroded by negative rates
Others disagree on this: JPMorgan suggests that such language will be maintained to avoid fueling the debate over exit sequencing. Barclays agrees, but sees scope for dropping just the word "well" to keep sequencing debate in check

ECB on quantitative easing, or QE: If financial conditions become inconsistent with progress toward sustained adjustment in the path of inflation, "we stand ready to increase our asset-purchase program in terms of size and/or duration"

Expected change: Some banks, including Barclays, expect removal of reference to potential increase in size of the bond-buying program
Market Positioning
With barely 10bps of ECB rate increases priced in through 2018, there is a bearish bias in the front end of the rate curve among strategists, with many favoring steepeners
With the belly of the German curve seen as vulnerable heading into the ECB meeting, Citigroup adds 2s5s steepener looking for bearish repricing of rate expectations, while JPMorgan says short 2s5s10s is an attractive bearish proxy
In the FX market, outlook is different with risks for EUR seen to the downside; Credit Agricole recommends short euro vs Australian dollar, given risks that the increased expectations for a more hawkish assessment by the ECB may not be met
BofAML also sees downside risks for the euro but expects the common currency to be bought on dips; the bank still holds long euro vs sterling as a favored trade for the rest of the year on view that Brexit negotiations will be difficult
Before it's here, it's on the Bloomberg Terminal.
LEARN MORE