Cars
East Coast Defender's Project Viper Is a Tank for Hamptons Types
This is the $285,000 rig you take up the mountain—or out to dinner
By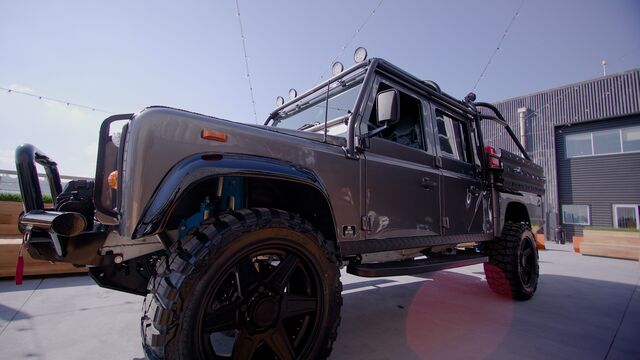 "These buyers want a vehicle they can take 50 miles per hour up a mountain in Costa Rica and then drive out to a fancy dinner Saturday night," Scott Wallace, a co-founder of East Coast Defender, told me last week in Manhattan.
That's you, right?



I met Wallace last week at the Classic Car Club to see his latest creation, a massive truck based on the 1986 Land Rover Defender 130. It's called "Project Viper." East Coast Defender will make no more than 10 of them this year. Most are already taken.
What's the appeal? Well, have you seen the things? Imagine a gunmetal gray Defender pickup truck jacked up so much it would dwarf an Escalade and kitted with enough off-road adventure tools that Furiosa, from Mad Max: Fury Road, would approve.
Sure, it's for a rarified group of people. That drive up the mountain in Central America coupled with a fancy dinner is aspirational for most, although the owner of the one I drove does just that. It doesn't mean we can't all admire the handiwork.

Americans Redo the Brits
A team of 20 builds the Project Viper trucks near Orlando, Fla. They work using the body shells of first-generation Defenders from around the world, restoring or replacing each body panel and bolt so that the truck can perform like any modern car. They add such amenities as air conditioning, a touchscreen infotainment system with GPS and a backup camera, wireless phone charging, and built-in Wi-Fi. The leather seats are heated; the locks and windows are power-operated.
But rather than feeling like obligatory add-ons to a vintage mobile, the additions blend well with the overall concept of the car. Much as what we see with Eleanor Mustangs, early generation Range Rovers and Shelby Daytonas, this is a happy marriage between vintage and contemporary automotive craftsmanship.  

Which is not to say the East Coast Defenders are amazing to drive. At least in the city. Project Viper drives like a cargo plane on steroids—braking takes forever, and you'll need about a five-point turn to flip a U-turn on a two-lane street. Visibility through the back half is terrible, although with that towering suspension you can see far above everything in front of you sitting in traffic. Zero to 60mph takes nearly seven seconds. As for fuel efficiency, you might as well be in a Lamborghini.
But the rough LED work lights set high atop the roof, those 20-inch, mud-grappler black tires, and the tubular wrench setup look so cool on the front. More important, those elements are exceedingly capable of extricating the car from the worst back-road jam you can devise. Yes, that's a dare. Get out there and get stuck.

The Special Project
East Coast Defender makes fewer than 40 special-project modernized Defender variants each year, and Project Viper is its latest and rarest offering. It has a 6.2-liter, 430-horsepower, V8 engine and a six-speed automatic transmission that lurches and barrels down the road like a Mack truck. (That's four fewer cylinders than plenty of cars carrying a third of the weight—which explains the slower "sprint" time.) It has Wildwood brakes with racing-style calipers on the front and rear, plus custom heavy duty axles with electronic locking differentials that allow for maximum performance in deep sand and mud, over boulders, and up cliff-hanger inclines. The whole thing weighs nearly three tons.

Thing is, the real beauty here is in the details. Braided stainless-steel fuel lines, old-school bomber gauges in the dash, and a diamond-plated bed liner with burnished steel toolboxes and seating don't sound particularly glamorous. But for the audience ECD reaches, they are. Each little perfect hand-built component is so time-consuming to make that the car requires nearly a year to put together.  And that doesn't take into account such special requests as alligator leather stretched over the seats or bullet-proof windshield glass.
"We tell customers to imagine exactly what they want, regardless of price or our own capability, and then we work from there," Wallace said. "We start with a blank sheet of paper and follow that dream."

The fantastic mentality associated with the Project Viper Defenders comes at a high price. The entry level cost of an East Coast Defender Project Viper is roughly $285,000, but crazy extras will require considerably more.




Before it's here, it's on the Bloomberg Terminal.
LEARN MORE