business
Brexit Bulletin: The Path to Power?
By
May pulls the campaign back to its original Brexit theme in final stretch

Pound investors braced for election result that will determine terms of exit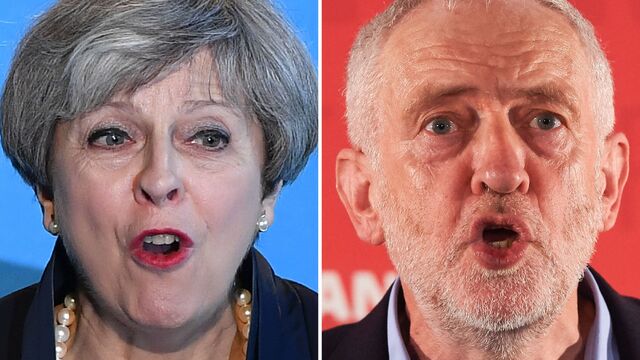 Sign up to receive the Brexit Bulletin in your inbox, and follow @Brexit on Twitter.
Theresa May's path to power runs right through Brexit Britain.
Aiming to harness the votes of onetime Labour followers who want to leave the European Union, as well as those who previously backed the U.K. Independence Party, the Conservative prime minister on Wednesday promised billions of pounds in state investment.
Setting out how she'd spend Britain's clawed-back contributions to the EU budget, May pledged more cash for fast Internet connections, funds to commercialize research, and better road and rail services as part of a 23 billion-pound ($30 billion) package.
"A year ago, the British people voted for a brighter future outside the European Union. But all this depends on getting the best deal for Britain in the Brexit negotiations. Get those negotiations wrong and the consequences will be dire."
With a day left until the election, Tim Ross of Bloomberg writes that May is returning her campaign to its original theme of which leader is best placed to steer Britain through the Brexit talks: her or Labour leader Jeremy Corbyn.
She is also funneling cash to areas that endorsed Brexit, but could suffer economically if it proves harder than they imagined. And she's changed the tone to present the positive side of the divorce after previously stressing the "threats" posed by EU officials and the complexity of the negotiations.
The good news for May is that, according to Bloomberg's Robert Hutton and Alex Morales, Labour officials and candidates say they are preparing to lose dozens of seats. One aide speaking on condition of anonymity said that the party had informally generated a list of more than 30 districts it had no prospect of holding.
The Tories also on Wednesday unsurprisingly won the endorsement of the Sun newspaper.
Follow the Leader
A map of May's travels in the seven-week campaign also reflects how central Brexit is to her election strategy, according to an analysis of her visits by Bloomberg's Adam Blenford, Hayley Warren and Charlotte Ryan.
Leeds, Halifax and Bolton are among the locations she's visited. The reason? They are all home to constituencies that traditionally voted for Labour and which also sided with Brexit.

The Negotiator
So how good would May actually be at negotiating Brexit if she wins on Thursday?
Robert Hutton reckons the campaign has shown she can seize an opportunity, but that she also rushes into bad decisions, lacks nimbleness and can't avoid showing her emotions.
Up for debate is whether her willingness to change course under pressure, as she did with her social care policy, is a strength or a weakness.
"She's very brittle," said Rob Ford, professor of politics at Manchester University. "She's easily forced off a position."
Rosa Prince, author of "Theresa May: The Enigmatic Prime Minister," argued her U-turns represent flexibility. "She will change her mind if persuaded it's the right thing to do," she said. "What she's not going to do is change it for the sake of a compromise."
The Economy
It's not exactly a glittering economic prize for the winner of this week's election: slower growth, tepid wage gains, a depressed currency and a productivity problem that's plagued governments for years.
In a series of charts, Bloomberg's Fergal O'Brien on Wednesday outlines the challenges facing the incoming premier, many of them compounded by Brexit sparking faster inflation and fanning concern about trade.
The Bloomberg Brexit Barometer has now fallen in the past six weeks and sits in "windy" territory.

On the Markets
The pound could plunge to as low as $1.20, a level last seen in January, should the election lead to a hung parliament, according to a Bloomberg poll of analysts. It's around $1.29 this morning in London.

Alberto Gallo of Algebris Investments writes for Bloomberg Prophets that sterling will suffer if voters hand May a free hand to negotiate a hard Brexit. He predicts leaving the EU will cut £140 billion, or 7.5 percent, from U.K. output over the coming years.
"The prime minister may have used an opportunistic moment to induce voters to strengthen her hand, but the British people deserve better," said Gallo. "On June 8, the U.K. should not write May a blank check.''
Bloomberg Gadfly's Marcus Ashworth reckons anything less than a 50 seat majority for the Tories would send the pound sliding as investors worry about the handling of Brexit.
Brexit in Brief
Corbyn says he would try to charm German Chancellor Angela Merkel on Brexit by inviting her to see Arsenal play football, according to the Telegraph
Jim Ratcliffe's Ineos Group says it's been approached to build a new four-wheel-drive vehicle outside the U.K. in what would be a blow to post-Brexit Britain
Intercontinental Exchange Chief Executive Officer Jeff Sprecher says the U.K. needs to do more to welcome businesses like his as Brexit looms
Online appliances retailer AO World says growth in its U.K. business slowed "significantly" in its latest quarter amid an aftershock to the Brexit vote
Denmark plans to widen its alliance-building efforts within the European Union ahead of the start of actual Brexit talks, Danish Foreign Minister Anders Samuelsen says
Lloyd's insurer CNA Hardy is to open an EU Subsidiary in Luxembourg by early 2019
And Finally...
For 30 years, an army of UBS traders packed the football-field-sized floors of a building in the City of London's largest office project.
Now Bloomberg's Jack Sidders reports teams of laborers in high-visibility jackets are busily transforming the property for a different type of worker.
Broadgate, a 32-acre complex built to accommodate banks and law firms is at the center of London's efforts to attract more technology companies as finance loses its sway as Brexit looms.
"Brexit is definitely a negative for London offices" said Hemant Kotak, an analyst at Green Street Advisors. "But what British Land is doing at Broadgate in terms of diversifying the uses and tenants is very intelligent, and ultimately it could end up being healthier for London overall."
For more on Brexit follow Bloomberg on Twitter, Facebook and Instagram, and see our full coverage at Bloomberg.com
Before it's here, it's on the Bloomberg Terminal.
LEARN MORE