Bank of America Has Found A Cheap Way to Hedge an Asian Stock Slump
By
BofA Merrill Lynch advises best-of put option for Asia indexes

Basket structured around Japan, S. Korea and Hong Kong gauges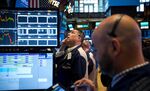 Worried about stock-market declines? Bank of America Merrill Lynch says this trade's for you.
The idea: buy a so-called best-of put option on a basket of three major equity indexes, a trade the U.S. bank says costs almost half the price of buying regular puts. They're recommending a strategy using the Nikkei 225, Kospi 200 Index and the Hang Seng that would pay off in the event of declines in equities over the next three months. The derivatives strategists also had ideas for those worried about a possible bubble in U.S. tech stocks.

Investors may be looking for a bit more in the way of hedges after global equities climbed to a record this month and signs appeared that stocks are moving less in tandem with each other. Volatility remains at multi-year lows in equities, given the backdrop of still-accommodative central banks, low inflation rates and optimism about global growth.
Read more here on what call options people are buying on the VIX
Here are the details on what the brokerage is advising:
Recommend a 14-Sep-2017 95 percent strike best-of put on NKY/KOSPI2/HSI that costs 0.8 percent, a 45 percent discount to average vanilla puts. William Chan, equity derivatives strategist at Bank of America Merrill Lynch advises trade in note dated June 6.
Recommend a FANG stock-replacement derivatives position or overlaying tech exposure with Nasdaq 100 put spreads; (FANG refers to Facebook, Amazon, Netflix and Google parent Alphabet)
Before it's here, it's on the Bloomberg Terminal.
LEARN MORE