business
Your Evening Briefing
Here are today's top stories for Europe.
Bloomberg News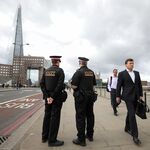 The evening briefing will soon be available in your inbox every day. Sign up here.
With just two days left before the British general election, Prime Minister Theresa May dispatched her colorful foreign secretary Boris Johnson to northeast England to get the most out of traditional Labour strongholds that supported Brexit. The shock of the Saturday London terror attacks continued to affect the campaign: London Mayor Sadiq Khan, a rising Labour star, warned that fighting terrorism will be harder if May wins and cuts funding for police. But May's path to reelection really runs through Britain's Brexit heartland, as our informative graphic shows. — Andy Reinhardt
Repercussions take root. The second day after Saudi Arabia and allies moved to isolate their Gulf neighbor Qatar over its ties with Iran, the financial fallout set in. The dispute, which started when Qatar's newfound natural gas wealth in the 1990s gave it greater autonomy from Saudi Arabia, may curtail the country's overseas investments, weaken its already overtaxed banks and clip the wings of its globe-hopping national carrier, Qatar Airways.

A $100 trillion question. Why is inflation so low, even as economic growth picks up? How this mystery plays out is crucial for the global monetary policy outlook and the world's $100 trillion bond market. With China's reflationary role fading, "what happens next in the U.S. has become critical," write economists at Societe Generale. Here's a look at what's going on.
The cost of renting a London home is falling fast. Lack of affordability and a growing number of available rental properties are prompting Londoners to seek cheaper accommodation. The average monthly rent paid in May for new lettings in Greater London fell the most in eight years to £1,502 ($1,940), a 3 percent decline from a year earlier. On the other hand, skyscraper values in the city's main financial district continue to rise, even as rents fall.
Bromantic. A new, four-part Showtime documentary by director Oliver Stone peeks into the life of one of the world's most powerful and secretive leaders, Russian president Vladimir Putin. Stone gained extensive access and touches on subjects ranging from Edward Snowden to Dr. Strangelove. But the first two-hour episode, viewed by Bloomberg News, offers little that's new about the former KGB agent who has ruled Russia for more than 17 years.
Half-naked women dressed as mermaids.  Almost-naked models used as sushi platters. These are some of the highlights of just one of the many company parties hosted by the Badoo dating app in London. At a moment when sexualized office cultures are a source of major scrutiny, Badoo is using these wild soirees as a recruiting tool. A series of employees complained to human resources, and several left Badoo last year because of the parties and Badoo's broader workplace culture, sources say.
Dress like the stars, for cheap. German discount store Lidl will sell clothes designed by model and fashion designer Heidi Klum starting later this year. The celebrity collaboration marks an expansion of Lidl's efforts to attract more affluent shoppers. It's also a potential challenge to Europe's established fashion retailers, which are already struggling to lure shoppers into stores.

Compiled by Andy Reinhardt and Leila Taha
Before it's here, it's on the Bloomberg Terminal.
LEARN MORE