technology
World's Biggest Container Line Working on Qatar Alternatives
By
Maersk spokesman says transport lines remain blocked Wednesday

Development follows isolation of Qatar by other Gulf states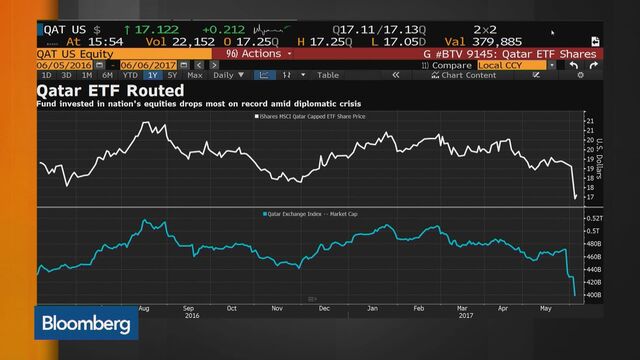 A.P. Moller-Maersk A/S, which owns the world's biggest container line, is working on bypassing a transport ban imposed on Qatar by neighboring Gulf states by using alternative routes as it tries to get stranded cargo to the emirate.
The Danish company said on Tuesday it could no longer transport freight to Qatar via the United Arab Emirates after Saudi Arabia and a group of neighboring countries blocked transport to and from the Gulf state, as retribution for its alleged involvement in supporting terrorist groups.
Maersk Line doesn't use its own vessels to bring cargo to Qatar, but relies on third-party so-called feeder services from the United Arab Emirates Jebel Ali port in Dubai. The situation is "very fluid," Maersk spokesman Mikkel Elbek Linnet said by email.
In a letter to customers obtained by Bloomberg, the company said it has "temporarily closed bookings for cargo from the rest of the world that transship over Jebel Ali."
"We are working on alternative solutions to ensure movement of your cargo," the letter dated June 6 said. "We expect to communicate these solutions to you over the coming 48 hours."
Read more: Top Middle East ports shun Qatar after Saudi Arabian actions
A group of countries including Saudi Arabia, the United Arab Emirates and Bahrain severed diplomatic and commercial ties with Qatar earlier this week, accusing the Gulf emirate of supporting terrorist groups ranging from Shiite Iranian proxies to Sunni militants such as Islamic State.
Maersk ships about 16 percent of the world's seaborne freight, making it the global leader in container transportation. The company is also the biggest in the Middle East and India region, having increased its presence there to about 18 percent of the market in the first quarter, from 17 percent a year earlier, according to its website.
Maersk, which has been working on splitting off its energy business to concentrate on its transport operations, said last year it lost the biggest oil field in its portfolio when Qatar ended a 25-year partnership with the Danish company. The agreement allowing Maersk to operate the Al Shaheen offshore field expires next month, after the company lost its bid for renewal to Total SA. Qatar's isolation won't affect oil production, Maersk told newswire Ritzau on Tuesday.
Before it's here, it's on the Bloomberg Terminal.
LEARN MORE